Welsh Guards march in Wrexham to mark Falklands anniversary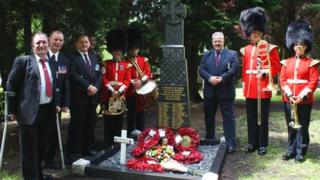 Soldiers from 1st Battalion Welsh Guards have marched in bearskins and red tunics to commemorate the 30th anniversary of the Falklands conflict.
The marching party in Wrexham included 24 Welsh Guardsmen, the regimental band and veterans.
During the conflict, 32 Welsh Guards were among 48 members of the British forces who died when troop ship Sir Galahad was bombed by the Argentines.
The march followed a service at St Giles Church.
The Rhos Male Voice Choir performed at the service on Saturday.
The march began after the church service and ended at the Memorial War Hall, where wreaths were laid in memory of those who died in the conflict.
Jets attacked the Sir Galahad, which was in Bluff Cove, just six days before the Argentine surrender.
The attack accounted for almost one fifth of all British fatalities, many of them Welsh Guardsmen preparing to go ashore and join the land war.
Many others were injured, including Simon Weston, who became a spokesman for those who fought to recapture the islands from Argentina.
The Falkland Islands were liberated from Argentine occupation on 14 June, 1982.