Tribute at death of 'oldest Welshman', Rhys Thomas Lewis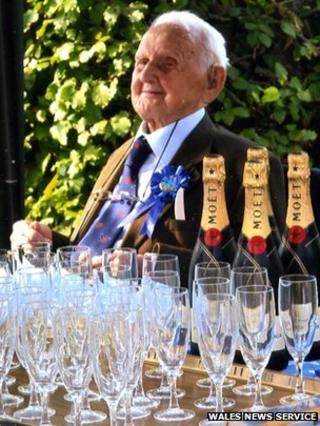 A former miner and history lecturer who claimed the title of the oldest Welshman has died at the age of 108.
Rhys Thomas Lewis was born in 1903 and grew up in the Carmarthenshire town of Llanelli.
He worked as a miner before gaining a scholarship to read history at Aberystwyth University.
"We are very proud of him as a family for reaching that age," said niece Gaynor Isaac from Sandfields, Port Talbot.
"It really is unbelievable."
'Missed'
She said he lived away from Wales for many years after becoming a history lecturer in Wokingham, Berkshire.
But he was always proud of his Welsh roots and spoke his native language at every opportunity.
"He was such a strong person - he will be missed by everyone," she said.
Two of Mr Lewis's sisters, Doris and Megan, were 102 and 99 when they died last year.
He leaves sons John and Peter, seven grandchildren and four great grandchildren.