Wales flooding: Risk recedes, but alert remains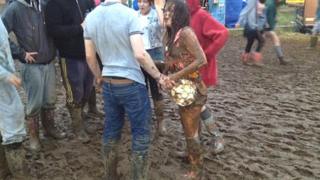 The flooding risk in Wales has receded, but householders have been told to remain on alert after a new summer storm brought problems to many areas.
Environment Agency Wales has downgraded its flood warnings, with none in operation on Saturday morning.
By Saturday night three flood alerts were still in place, urging caution.
North and mid Wales were worst hit by rainfall on Friday, and forecasters expected rain in the south east and south for most of Saturday.
Elsewhere, it was drier with bright or sunny spells and showers later.
Despite the downgrading of the imminent risk of flooding the Environment Agency warned people to "remain vigilant and prepared for flooding".
It said large parts of Wales and northern and central England were hit by persistent rain, with "very heavy" rainfall in parts of south west England.
"We have teams checking on flood risk management schemes, clearing river blockages and monitoring river levels," said the Environment Agency.
"We are also advising local authorities and the emergency services to prepare for flooding."
In Wales forecasters said Saturday night was expected to be mainly dry, with some rain in the south east.
Sunday will be dry in most places with bright or sunny spells with more heavy thundery showers in the afternoon, mixed in with some sunshine and light winds.
BBC Wales weather presenter Yvonne Evans said the unsettled weather was caused by the jet stream located further south than is expected at this time of year.
"If the jet stream was to the north of Britain we would have more settled weather," she said.
"It's not going to change very much in the foreseeable future, with more changeable conditions to come."
The wet conditions have led to a number of events being cancelled and even those which are carrying on are having to cope with excessive surface water and mud.
South Wales firefighters were called to a circus in Bridgend on Friday when the entrance was flooded.
Uncle Sam's American Circus is due to stage shows at its current pitch in Laleston Road throughout the weekend.
There was said to be no imminent risk to the circus big top or the any other equipment on site as the flooding was only affecting the entrance.
In Gwynedd, the Wakestock music and wakeboarding festival continued, although some campers had to be moved after their tents were flooded.
Organisers have arranged a park and ride location at Pwllheli Marina in the Yacht Club car park, where festival-goers can park and meet the shuttle bus service, which drops off at the festival entrance.
The shuttle buses run on a continuous loop between Pwllheli Maes, the Yacht Club and the Wakestock Festival site at Pen Rhos.
This facility is also available for people dropping off and picking up festival goers.
The car parks at the festival site will be open but Wakestock organisers recommend that car users use the park and ride as an alternative to avoid potential delays.
The RSPCA has urged farmers to move livestock from low-lying fields and ensure animals have access to food and shelter where possible, and for pet owners to keep their animals safe at all times.