London 2012: Wales Big Dance Week for Cultural Olympiad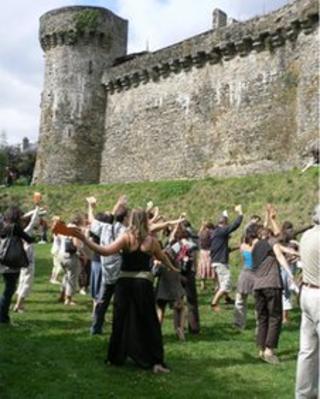 An energetic way of encouraging people to dance has been launched across Wales.
Parks, town centres and piers will play host to Big Dance Week, which is part of the Cultural Olympiad 2012.
The free events are taking place in Pontypridd, Ebbw Vale, Llandudno and Cardiff and will run until 15 July.
Jen Angharad, of Dance Cymru, said people can simply pick up a leaflet at the event, and follow the dance instructions.
Ms Angharad, who is also the curator of the Big Dance in Wales, said: "I am very excited.
"We've had a relatively short amount of time to put the programme together, but with such a great response from the dance movers and shakers across the country it has been possible."
As part of the festival, French choreographer David Rolland has taken The Readers on tour.
Dance styles range from hip-hop to contemporary and ballroom. Leaflets with instructions in English, Welsh and French are available at each event.
"You might end up dancing with someone next to you," said Ms Angharad.
"This is absolutely fantastic. This is the first time ever that there's been this huge celebration.
"If you're like me, you're in the supermarket and I hear the music going on in the background and I start tapping my feet - I'm off with my trolley.
"So wherever you are, and whatever you're doing, get dancing with your neighbour this weekend."
Events include:
Thursday, 12 July, time to be confirmed, Caerphilly Castle
Saturday, 14 July 1300 BST, Wales Millennium Centre, Cardiff
Saturday, 14 July 16:00 BST, Cardiff City Hall