Ancient woodland in Wales traced by new technology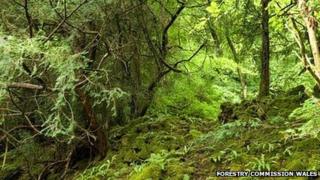 Wales has thousands more hectares of ancient woodland than previously thought after new technology was used to trace them.
The first inventory of ancient woodland - native trees dating back at least 400 years - was recorded in the 1980s and found 62,000 hectares.
Now digital mapping has discovered there are actually 95,000 hectares.
Forestry Commission Wales said the initial count was basic and it always thought some woods were missed.
The woods consist of native trees such as oak, ash and birch and are regarded as some of the UK's richest sites for wildlife.
They are also home to more threatened species than any other UK habitat.
The new inventory will help protect the sites from development.
Forestry Commission Wales, with the Woodland Trust and Countryside Council for Wales, started updating its log of ancient woodland about three years ago with the improvement of digital maps.
Bill MacDonald, from Forestry Commission Wales, said the first inventory was compiled county by county.
"It was done with paper and pencil, tracing over an old Ordnance Survey map. It was very basic and the maps weren't very clear," he said.
"So we always suspected there might be more woodland that had been missed - small pockets, less than two hectares, that were either missed or would have been too time consuming to find and log.
"But we didn't know there would be this much and we were very surprised. I suppose a lot of little bits add up to a lot."
Welsh economy
More accurate digital maps were used to pinpoint the ancient woodland sites and the new technology meant that areas of woodland between 0.5 and two hectares in size could be included for the first time.
These sites were then cross-checked with recent aerial photographs.
The increase means ancient woodlands represent over 30% of all woodland in Wales.
Environment Minister John Griffith, who launched the revised Ancient Woodland Inventory, said the discovery was also good news for the Welsh economy.
"Managed sensitively and sustainably, ancient woodlands can yield timber and generate jobs which will contribute to the Welsh economy, as well as improving biodiversity, sequestering carbon and providing diverse habitats which add to our stunning landscapes," he said.
One of the new areas of ancient woodland is at Cwm George and Casehill woodland, near Dinas Powys in the Vale of Glamorgan.
But Mr MacDonald said they were scattered all over Wales and can be found on the Forestry Commission Wales website.
They can often be recognised because their boundaries are very natural looking and would have been marked on ordinance survey maps dating back to 1880 as "old wood".