Mines Rescue Service future 'under threat'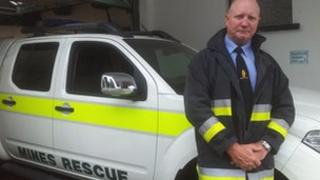 The future of mines rescue services in Wales could be under threat because it is struggling for funds, it is claimed.
The Mines Rescue Service in Rhondda says it receives a small percentage of its income from mines and has to run training courses to cover costs.
With the threat of mines closing, it would like UK government help.
The Department for Work and Pensions said it treated the service's work very seriously, but stressed that it is run as a private company.
Work and Pensions Secretary Iain Duncan Smith said it had found new sources of income to replace "falling receipts from a shrinking coal industry".
But Neath MP Peter Hain said the Mines Rescue Service was like an emergency service and should be "properly funded by government like the fire, police and ambulance services".
Mark Tibbott, operations manager for the Mines Rescue Service in Wales - one of six centres across the UK - said the service receives a small percentage of its income from a levy on coal mines, which totalled about £15,000 last year.
In the same period it made more than £1m from the commercial activities run by the team, which include health and safety courses.
But together, the funding is not enough to cover the costs of the service and the shortfall is currently being met by other mines rescue service centres.
Mr Tibbott said the potential closure of more mines in the future could make the funding situation worse, and put pressure on mines to provide their own rescuers.
He said: "The service potentially could be under threat because obviously there's only so much we can do to get commercial income and we have more or less saturated that."
He went on: "We have never had a penny from central government so it's all from our own hard work.
"We are basically an emergency service for tunnels and subterranean issues. The fire service can't help in these situations - the Mines Rescue Service is the only service equipped to go and help these emergencies under ground.
"I have spoken to politicians in Wales and we've been lobbying for numerous years."
'Better resources'
Since last September's disaster at Gleision Colliery, where four miners died when a drift mine flooded, the funding of the rescue service has been highlighted.
Following the incident near Pontardawe in the Swansea Valley, Mr Hain called for better resources for mines rescue services, saying "potentially lethal" flaws had been highlighted.
He claimed there were disputes over bills, and some rescue costs were met by a nearby mining firm.
Mr Hain sent his report to Work and Pensions Secretary Iain Duncan Smith, urging him to "resource the Mines Rescue Service properly".
Mr Tibbott said despite meetings with politicians, help had not been forthcoming.
Mr Hain also said he believed there had been "a deafening silence since".
He said the Mines Rescue Service - which this year celebrates its centenary - was "absolutely essential" during the Gleision disaster.
'Mutual help'
He said: "They basically have to find the great bulk of their money by hiring themselves out.
"It's totally wrong. The fact that the mining industry is privatised [should have] nothing to do with it."
Replying to Mr Hain's report in December, Mr Duncan Smith said neither the Gleision rescue attempt nor the subsequent recovery operation at the mine were hampered by a lack of funding.
"The mines rescue activities could not have happened without the release of additional resources from other mines, but the principle of mutual help is fundamental to the Mines Rescue Scheme," he said.
Contacted about the latest claims, A Department for Work and Pensions (DWP) spokesman reiterated what it said at the time: "We take this very seriously and any suggestion we don't is utter nonsense."
He also said Mr Duncan Smith's comments from the time were still relevant.