Attempted robbery outside Barclays Bank in Llandaff, Cardiff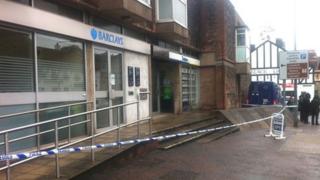 Police are investigating the attempted robbery of a security guard outside a bank in Cardiff.
The incident happened near Barclays Bank in Llandaff at around 10.30 BST on Wednesday.
South Wales Police said officers were at the scene and inquiries were ongoing.
Officers have cordoned off the entrance to the premises, which is on Cardiff Road, and a Darlows estate agent next door.
BBC Wales reporter Natalie Grice said a G4S security van remained parked up on the pavement nearby.
Local shop workers said the first they had known of the incident was police vehicles arriving at about 10:30 BST.
Val Parry, who manages Stewart Greenberg Opticians, said she had locked her door as a precautionary measure.