London 2012: Team GB women footballers' Olympic honour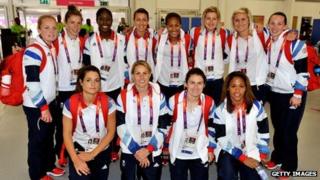 Women's football - one of the world's fastest growing sports - has been shown to a global audience with GB kicking off the Olympic Games in Cardiff.
Team GB beat 1-0 New Zealand at the Millennium Stadium in Wednesday's curtain-raiser.
Coach Hope Powell picked 16 English and two Scottish players for the game which she calls a "great honour".
No Welsh players were involved. Striker Gwennan Harries admits they "have not been good enough" to make the squad.
"It's disappointing there aren't any Welsh players in the squad, especially for the first Game in Cardiff," said Harries before the game.
"The Millennium Stadium is one of the best stadiums in the world. The eyes of the whole world are on Cardiff for the Games.
"I'm not going to lie, I think all of the Welsh players are disappointed not to be part of it. There are Scottish and English players who will be going to play at the Millennium Stadium before us.
"Wales have never played there. It's a bit gutting."
'Catch people's attention'
The bigger picture for coach Powell though is to succeed at the Olympics and leave a lasting legacy for the sport kicking off the Games.
"It is a great honour, I am really pleased it has happened this way," she said. "It will give us a lot of kudos, a lot of attention.
"There are no other Olympic events on that day so it's a chance to showcase the sport, hopefully it will be a good game and it will give people a greater appreciation of how good women's football actually is.
"We have a responsibility and a great opportunity to do that. It's a world stage, the Olympics is global, it is massive in its own right.
"With the coverage we will undoubtedly get, we are hoping we can catch people's attention and raise the profile of the sport, not just in Britain, but globally."
About 40,000 fans watched the opening game at the Millennium Stadium.
The popularity of women's football worldwide is at an all-time high and is endorsed by Fifa and Uefa.
In Wales there are 4,000 registered players involved in eight junior and five senior leagues.
Next year, Wales will host the Uefa women's under-19s football championships.
Rankings
"Everyone still thinks girls sports is dominated by netball and girls hockey," said Harries who has won 48 caps for Wales.
"At grassroots level, football has taken over netball as the most affiliated sport in Wales.
"Wales are climbing the rankings slowly but surely but we are definitely heading in the right directions.
"I've done a lot of coaching over the last two or three years and there are teams now which is pleasing.
She added: "When I was coming through, I was the only girl in the a boys team. Now there are girls teams.
"I just play football for the love of the game. We play in a country where football is a huge part of the culture."