Cigarette display ban starts in supermarkets from December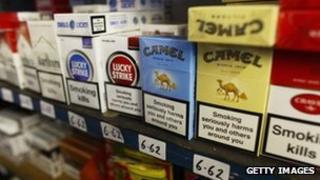 Cigarettes will be banned from display in stores in Wales, it has been announced.
Large shops and supermarkets must remove cigarettes and other tobacco products from view by December this year. Smaller shops must comply by April 2015.
Health Minister Lesley Griffiths said the ban would protect children from the harm caused by smoking.
Anti-smoking group Ash said it was a "significant step".
Retailers will be able to display one price list at the point of sale and an illustrated price list will also be available to customers on request.
The list will not be left out on display.
'Death'
Ms Griffiths said: "Smoking is the greatest preventable cause of illness, disability and premature death in Wales and accounts for more than 5,600 deaths every year.
"Evidence shows the display of tobacco products in shops can promote smoking by young people and undermine the resolve of adult smokers who are trying to quit."
The Welsh government's aim is to reduce adult smoking rates to 16% by 2020.
Ash chief executive Elen de Lacy said: "Research after point of sale displays had been banned in Ireland showed that compliance was high among retailers, young people became less confident that they would be able to purchase cigarettes from shops, and were less able to recall brands, with a drop from 80% to 22% after it was implemented."