Mixed reaction to Church in Wales review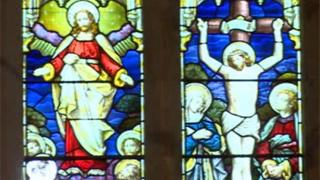 Radical plans to modernise the Church in Wales have received a mixed reaction, with one vicar casting doubt that it will lead to change.
A report recommends parishes run by vicars and lay people and holding non-traditional services on days other than Sunday.
It also addresses controversial issues, including the surplus number of churches in Wales, saying buildings that are not needed may have to close or adapt.
The study by three leading Anglicans highlights "very low morale" in some parishes.
The Reverend E Bernard Thomas, rector of Llandyrnog and Llangwyfan parish in Denbighshire, said he agreed with the recommendations in the report - but wondered if some people in the church were ready for them.
"I can remember similar reports in various years past. I hope that this will actually be acted upon and not put on some shelf," he said.
"I was on a commission in 1984 which had very radical suggestions and all kinds of things and nothing happened then. People are still carrying on.
"Sadly you have to get to a point where you really are in crisis mode.
"I thought it was that point in 1984. It needs to get to a point where people will start to agree."
He said some of the recommendations, such as merging parishes, might not be very popular because people "want to relate to one person rather than a team".
Rev Thomas, who retired as an archdeacon but has been a part-time priest for a year, said he appreciated that "new blood" was needed in the clergy as more and more vicars like him were nearing retirement.
He added that his church was already trying to reach out to people who didn't normally go to church.
"We hold a 'Messy Church' which reaches out to families. The idea is you meet in the village hall and do crafts on a particular theme, like the Good Samaritan.
"We then have a short service tailored to families and then share a meal together.
"It's really popular and we are seeing people who we have never seen before. It helps because they don't have to worry about their children making a mess or noise."
Peter Blake is a former church warden and a leading figure in the Friends of All Saints in Maerdy, which protested at the closure of their local church in Rhondda and is considering taking up the building's lease.
He said closing churches can have a huge impact on a community.
"From a basic point, there's no weddings, no funerals or christenings, so no services whatsoever," he said.
"It makes me personally very sad. The closure of our church has been greeted with sadness throughout the community."
He said the idea of forming larger ministry areas and closing some churches might alienate some people, particularly older people.
"The Christian church will be there but the community won't be there. That's why people go to church.
"And it's not very easy for elderly people who don't drive to travel to another church on public transport on a Sunday morning."
However, the Reverend Peter Lewis, vicar of St Catherine's in Pontypridd, believes the report will re-energise the church.
"I think at the moment the real issue for me is that it's important for people at the top to give us real support when locally we need to change things in terms of the resources we have," he said.
"For example, buildings. We just have a huge difficulty I think with a large number of buildings that at the moment, quite frankly, we don't need."
Stewart Franklin, who attends St Catherine's, said it had embraced the local community with a variety of clubs, such as a book club and film club, which had had a positive impact on the church.
"There's a real bond in the congregation," he said.
While Mark Broadway, another member of St Catherine's, said it was time for the church to go "back to basics".
"It's about community focus and that's the origin of the church really.
"It's only been in the last 100 years or so that we have had separate spaces for family events and for community events."