London 2012: Fireman Steve Roberts heads anti-doping operation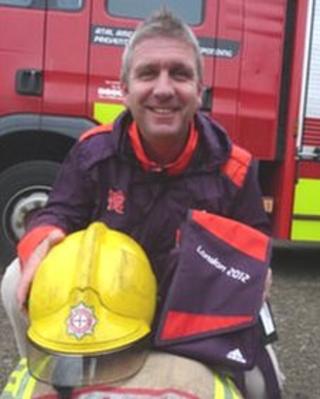 A firefighter playing a key role in the biggest anti-doping operation in Olympics history says athletes have nothing to worry about if they follow the rules.
Wrexham-based Steve Roberts, 43, is leading a team of 60 staff who will be testing athletes competing at the Olympic Stadium.
"We apply the rules they [the athletes] agree to abide by. If they do that, they've got no worries," he said.
The Games are due to open on Friday.
Across all Olympic events, half the competitors are to be tested for drugs, with 150 scientists taking around 6,000 samples between now and the end of the Paralympic Games.
Every competitor who wins a medal will also be tested.
"It's the largest anti-doping programme of any Olympic Games and I'm in charge of the Olympic Stadium testing-wise," he told BBC Wales.
"The buzz down there is absolutely phenomenal.
"We've been mainly getting things ready in preparation. We've been doing testing but not a great deal yet.
"Some of the countries have been arriving earlier than others but the majority are arriving around Tuesday so that's when it really starts to kick off and the testing programme is in full swing."
He became involved in anti-doping eight or nine years ago and, after chatting to someone on a golf course about the process, he "fell into it".
He has since been involved in testing at many top sporting events including Premier League football, and Wales football and rugby internationals.
Mr Roberts, who has sat several examinations to become a lead doping control officer, was asked to head the testing team in the stadium by UK Anti-Doping because of his experience. It will be a routine he knows well.
"We take urine and blood samples - it can be either or both. The room that the operation is carried out is like hospital rooms, and they are very clinical," he said.
"The completed test is in a sealed bottle and it is then refrigerated to the end of that testing day.
"I bag it then with all the paperwork and it's delivered to GSK (GlaxoSmithKline) and they look at the sample."
More than 1,000 people will staff the anti-doping laboratory, with up to 400 samples tested every day for more than 240 prohibited substances.
Mr Roberts, who is working as a volunteer, said he got great satisfaction from the work.
"It's nice to know that everyone who competes does so with a level playing field. That's why I've got into it," he said.
Sadly for him though, he will be too busy to watch much of the Olympic action but he has not ruled out sneaking a small glimpse.
"When it starts I will not have time for anything. My shifts will be from dinner time to two o'clock in the morning," he said.
"But if the opportunity allows me to nip out and have five minutes trackside, trust me, I will."