London 2012: Beach volleyball role for Welsh Cavalry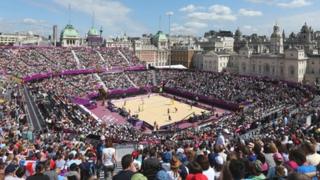 After active duty overseas and defence cuts at home, the Welsh Cavalry have begun a more upbeat deployment at the Olympics beach volleyball.
Troops from 1st the Queen's Dragoon Guards are providing security at the venue in Horse Guards Parade, London.
Maj Henry Gates said 70 soldiers had put themselves forward to watch over the home of the competition, which began on Saturday.
"When they heard about it they leapt at the chance to volunteer," he said.
In May, after completing a tour of duty in Helmand Province in Afghanistan, the regiment undertook a homecoming parade through the streets of Swansea.
Shortly afterwards its members marched through Cardiff city centre as part of the Queen's Diamond Jubilee celebrations.
A remembrance service was also held at Llandaff Cathedral for two members of the Welsh Cavalry killed in Afghanistan.
Despite fears of a merger with the prospective loss of 500 of its number, the regiment then survived stringent defence cuts to the British Army which were announced earlier this month.
Now some of its complement are providing perimeter security, foot patrols and screening at Horse Guards' Parade, alongside police and civilian security.
"The majority of my guys volunteered for this while on tour in Afghanistan," said Maj Gates, the officer commanding the unit. "When they heard about it they leapt at the chance to volunteer."
When asked whether he thought this was anything to do with the fact they might find themselves in close contact with a number of Olympic women's volleyball teams, he replied: "I don't think there were any complaints.
"Though I'm not sure how much volleyball we are going to be able to watch. We will be looking outside not in."
Despite extra troops being called in to make up the shortfall in security attributed to official security firm G4S, Maj Gates explained that it was always the case that the venue would be guarded by the British Army.
Although the beach volleyball competition began on Saturday, Maj Gates said his troops would be on duty for the duration of the Olympics.
"It's upbeat," said Maj Gates. "It's great to be part of what is the main effort for the nation."