Royal Welsh Show 'one of the most successful ever'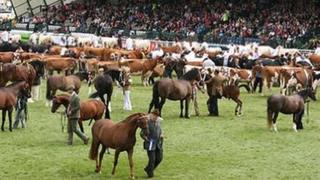 Officials believe this year's Royal Welsh Show is on target to be one of the most successful yet.
As the farming showpiece prepares to close on Thursday, organisers said they could not have predicted such good weather after weeks of heavy rain.
But farming leaders said the show's success reflected the potential of the industry, and not the true state of it.
At the event, a code of practice to give milk producers more bargaining power was agreed.
Attendance figures have been high, and it is possible crowds are up because other events such as the Great Yorkshire Show were called off because of earlier torrential rain.
The Royal Welsh Show chairman of council, Alun Evans, said: "Other shows have unfortunately been cancelled and we might have benefited from that.
"We have had buses travelling down from Yorkshire to our show this year.
"On Wednesday, 5,000 children visited the show and we have so many visitors from abroad.
"Against all that, many farmers have not been able to come this year because of the weather and now the sun's out they can get their work done. Without them we are still getting record figures.
'Missed out'
"Wherever you go on the showground you see people doing business, which is a plus for the Royal Welsh. Those businesses who have decided not to come this year will have missed out."
In the days leading up the show organisers had to deny speculation it was set to be cancelled after weeks of unseasonal weather.
But on Wednesday 70,125 visitors attended the event, which just fell short of the daily attendance record of 70,613.
More than 64,000 attended on Tuesday, and medical teams were inundated with people suffering from heatstroke.
Brian Walters, vice-president of the Farmers' Union of Wales, said the show reflected the potential of the Welsh agriculture industry.
"The show has shown what the Welsh and UK governments could get out of it [the farming industry]," said Mr Walters, who milks 200 cows near Carmarthen.
"Even with the depression in milk prices we can still pull together and put on a good show.
"But the show is not a reflection on farming, and I doubt if a lot of business is being done on the showground."
The start of the show on Monday followed days of protest by farmers after four processors announced a cut in the amount they paid producers for milk by 2p per litre.
Following meetings with UK and Welsh government ministers at the event, a voluntary code of practice has been drawn up to give milk producers more bargaining power.