Wakestock's abandoned tents recycled for homeless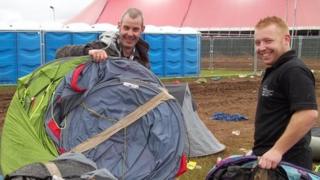 Tents and sleeping bags abandoned on a festival site have been collected to help homeless people in winter.
Some 120 tents and 150 sleeping bags were picked up after Wakestock at Aberosch, Gwynedd.
They are being washed, dried and packed at St Mary's hostel in Bangor, to form part of a pack for rough sleepers in Gwynedd and Anglesey.
Hostel co-ordinator Kerry Jones, who had the idea, said the amount of kit left behind was "a real eye-opener".
"We'd been buying sleeping bags to be handed out, but we were using our limited resources, and if anyone's bag was damaged we couldn't give them another," she said.
"I contacted Wakestock to see whether tents were being left when the 25,000-30,000 festival-goers had left.
"It was a real eye-opener. It's a very throwaway society and people had just got up when the festival ended and left everything behind."
The collection was made earlier this month and the mammoth task of washing, drying and packing is still going on.
Various agencies across Gwynedd and Anglesey work together to help the homeless, and Mandy Morsley, an area team leader with North Wales Housing Association, said there was increasing pressure.
"We are seeing more failed tenancies, someone might still be working but will be sleeping in their car," she said.
"It's happening to more 'mainstream' people. The problem is becoming bigger, so we are working harder."
Reg Mercer, 59, who helped collect the tents and bags, is also one of those who will benefit after becoming homeless.
He sleeps rough and sells copies of the Big Issue magazine on High Street, Bangor
Mr Mercer said the tents and sleeping bags handed out "save people's lives".
"I got a rucksack from beneath a tent. I was shocked at how much stuff was left behind," he added.
Ms Morsley said it was important people realised how much people like him depended on donations.
St Mary's hostel also accepts food and clothing, there will soon be a drive to let schools and churches know that any harvest festival collections are welcome.
Ms Jones is looking at expanding the tent and sleeping bag collecting by offering advice to other groups.
"What is left over is sent to landfill," she said.
"A conservative estimate of what we picked up is around £6,000 worth, but I think you can easily double that because some of the items were brand new still with their price tag on."