Two children at Blue Door Nursery, Cardiff, have meningitis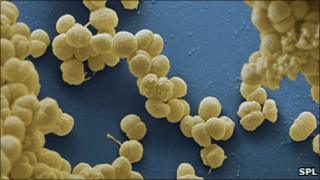 Two cases of meningococcal meningitis in children at a Cardiff nursery are being investigated by Public Health Wales (PHW).
The first child was reported ill at the start of July while the second case was reported on 25 July. They both attend the Blue Door Nursery.
Dr Gwen Lowe, of PHW, said the cases could mean the infection was transmitted at the nursery.
The nursery said it had a stringent policy and followed all guidelines.
Staff and children had been offered antibiotics as a precaution.
Blue Door owner Justine Vedmore added: "The children's welfare, safety and health are always our paramount concern and we would like to assure everyone that we have followed all protocols and guidelines and have worked closely with PHW on this.
"We have a stringent policy and procedure in place regarding infection control and this is reviewed on a regular basis.
"All staff receive training on our policies and procedures and we share these with parents."
Letters have been sent to parents advising them of the signs and symptoms of meningitis.
PHW said that although both children were admitted to hospital they are now at home and are recovering well.
Dr Lowe, consultant in communicable disease control, said that bacteria that cause meningococcal meningitis are carried in the back of the throat of many healthy people.
"The germ can be passed to others through prolonged close contact usually in household settings," she said.
"Occasionally the germ may cause illness in a previously healthy person when they are exposed to it.
"Therefore, as a precaution we are offering all of the children and staff at the nursery antibiotics to reduce the risk of further cases.
"The antibiotic we are recommending will clear the germ from the back of the throat of anyone in the nursery who may have picked it up.
"But it will not prevent illness in anyone who is already infected so parents are being advised to be aware of the signs and symptoms and to seek medical help if they are concerned."