London 2012: Olympic football ticket advice for fans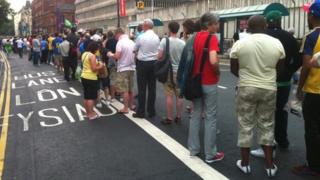 Fans wanting tickets for Saturday's Team GB women's game in Cardiff are asked to arrive as early as possible following huge queues on Thursday.
Hundreds had to wait up to an hour to collect and buy tickets before the Brazil v Egypt men's match.
Some 600 were waiting in a 100-metre queue minutes before kick off, mostly picking up tickets, until they were let in after showing proof of purchase.
Organisers said they were subject to the "same rigorous searching regime".
On Saturday, the Millennium Stadium hosts two women's games, New Zealand v Brazil at 14:30 BST and Team GB v Cameroon at 17:15 BST.
A similar sized crowd to the first two days is expected, with almost 27,000 attending on Thursday and just over 30,000 on Wednesday.
Organisers say their message to fans is "pack light and get there early" to avoid delays.
Cardiff hosted the first event of the entire Olympics on Wednesday when the Team GB women beat New Zealand 1-0.
The launch of the Games was hailed as "fantastic", and London 2012 chairman Seb Coe said Cardiff felt like "an Olympic city".
Fans praised the city and the stadium but some pointed to teething problems as long queues formed where security teams were searching people's bags.
On Thursday, there were no problems with bag searches but large queues formed at ticket booths a couple of hours before kick off.
Many fans were unhappy having to wait an hour to pick up tickets they had already ordered and paid for online.
Nicky Lovell, 25, from Cardiff, said: "We bought our tickets online and we've had to queue for ages.
"We were expecting to come here, get our tickets and go in."
George Reeves, 23, was also picking up tickets he had already bought.
He said: "We still have to queue with people who are buying them. I think it's pathetic."
'Contingency plan'
Tickets were available from two booths, one at gate three on Westgate Street and the other at Cardiff Arms Park opposite the Angel Hotel.
The longest queues were at the gate three booths and, as kick off approached, consisted of people mainly picking up tickets.
A few minutes before kick off, officials decided to let them in without tickets provided they could show confirmation of their booking.
One fan who went in said: "This is not very well organised. We were here in good time. It seems the ground wasn't ready for us."
A Locog spokesperson said: "The implementation of a contingency plan allowed a few hundred fans entry into the Brazil v Egypt game at the Millennium Stadium... using 'electronic tickets' (email confirmations), when it became obvious that there was a possibility they would miss the start of the game.
"All of the fans were still subject to the same rigorous searching regime in line with Olympic security arrangements.
"We would like to advise all fans attending matches to arrive as early as possible to purchase and collect tickets to ensure they get the very best match day experience."
Organisers say around a third of a million tickets have been sold for the eight days of football action in Cardiff.
Three matches are expected to approach a sell out, including the Team GB men's game on 1 August.
The ticket office on Westgate Street is open daily from 10:00 BST throughout the Games, and remaining tickets for all matches in Cardiff are on sale each day.
On match days, a second ticket office at Cardiff Arms Park, is open from 10:00 BST.