Six museums in £200,000 Sharing Treasures project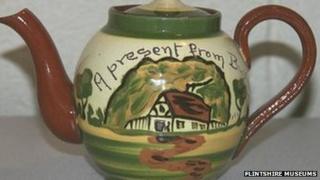 More artefacts from Wales' past are to go on show in a £200,000 project called Sharing Treasures at six local museums.
In north east Wales, £100,000 is being spent to reveal more about the area's prehistoric and industrial history, including Buckley's pottery trade.
Meanwhile, £50,000 will pay for a new exhibition space at Cyfarthfa Castle Museum, Merthyr Tydfil.
And Abergavenny and Chepstow Museums are sharing £50,000 to explore the cultural importance of two abbeys.
The funding, by the Heritage Lottery Fund and Welsh government, assists small museums with the costs of exhibitions as well as alterations to buildings to make them suitable for exhibits.
In Flintshire, Buckley museum, part of the town's library, will spend £49,817 to expand its collection of excavated Buckley pottery with items borrowed from National Museums Liverpool.
In June, the museum put more pottery on permanent display which it was able to buy and showcase from the 18th Century industry.
Wrexham Museum receives £16,200 for a project exploring the cultural impact of Wrexham's Sir Watkin Williams-Wynn, regarded as the richest Welshman of his day who was a major supporter of the arts.
The money will look at his Grand Tour of Italy and France in the 18th Century, staging a fine art exhibition of the work of artists he sponsored on his return.
Llangollen Museum is planning a project to tell the story of a prehistoric burial mound and, above it, a 9th Century monument called the Eliseg Pillar, as well as neighbouring Valle Crucis Abbey, built in 1201.
A total of £39,650 will enable the Denbighshire town to create an exhibition based on finds from recent archaeological excavations.
Abergavenny and Chepstow Museums are undertaking a joint three-year project to explore the cultural impact of Tintern and Llanthony abbeys ending with concurrent exhibitions.
Priory of Augustinian canons founded Llanthony Priory early in the 12th Century in Ewyas valley, near Abergavenny.
Welsh government custodians Cadw say Tintern is the best-preserved medieval abbey in Wales.
Cyfarthfa Castle is using its funds to create a new gallery.
Its first temporary exhibition will display works from the National Library of Wales' collection of paintings by the late Sir Kyffin Williams, considered by many to be one of the most talented artists of his generation in Wales.
Heritage Lottery Fund (HLF) contributed £105,766 towards the project, with the Welsh government adding £99,000.
National Museum Wales will offer advice, as well lending collections to the exhibitions.
Director General David Anderson said: "Our involvement in Sharing Treasures helps to strengthen our relationships with partner museums, ensuring that expertise is shared and the national collections are as widely available as possible.
"The national collections do, after all, belong to the people of Wales."