A55 gridlock as lorry overturns at Abergwyngregyn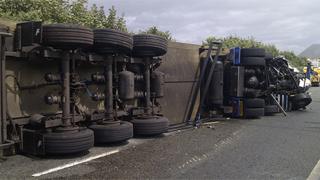 A 12-mile traffic jam has built up on one of the main commuter routes across north Wales after an articulated lorry overturned, spilling 500 litres of diesel onto the road.
The A55 is closed at Abergwyngregyn, Gwynedd, after the incident at around 07:50 BST that left one person injured.
The westbound carriageway has reopened but the road eastbound is still closed.
The Welsh government said nearby roads were already "heavily congested" with diverted drivers.
Drivers are advised to detour via the A5 at Betws-y-Coed and then the A470.
Welsh government traffic officers are assisting police in dealing with traffic. Workforce teams are carrying out repairs, helping to remove the lorry's load of 18 tonnes of meat and cleaning up the spilled fuel.
Emergency services have been at the scene since an articulated lorry overturned blocking both lanes of the carriageway between Junctions 13 and 14 (Abergwyngregyn and Madryn).
The lorry has since been righted but emergency services continue the clean up.
The fire service said crews from Bangor and Llanfairfechan as well as a specialist environmental protection unit from Holyhead were sent.
The Environment Agency Wales officers worked with the emergency services to block drains and absorbent material was used to contain and clear the diesel to protect the Afon Aber which is nearby.
Traffic Wales reports long queues southbound into Bethesda, on the route of diverted traffic.
There were also reports of gridlock in the Llanrwst area as vehicles try to divert along the A5 down the Conwy Valley.
The Trunk Road Agency advised drivers to divert on to the A5 at Junction 11 to Betws-y-Coed then head up the A470 to rejoin the A55 at Junction 19.
The traffic chaos caused Angharad Jones, from Moelfre, Anglesey, to miss her flight to Canada. She said the situation was "a complete shambles".
"It's just been the worst morning of my life," she told BBC Wales.
"I left 8am this morning from Moelfre to be in Manchester Airport for 12.15pm - but I missed my flight by seven minutes."
The 20-year-old will now pay an extra £300 to take another flight on Saturday.
Kerry Jones, from Llangefni on Anglesey, said a daytrip to Blackpool with his four children had to be abandoned after they had been stuck in traffic for two-and-a-half hours.
Angle Roberts, from Bangor, Gwynedd, was in a queue for nearly seven hours and was disappointed there were no updates from the police.
Flintshire-based Dandy's, which delivers topsoil and other supplies, said it had drivers stuck in the hold-ups, completing only half their daily deliveries.
One local haulage firm boss, who asked not to be named, said the traffic problems were compounded as A-roads dealing with the detour were struggling to cope with a big volume of traffic.
He said drivers had been using the alternative routes which were putting them up to three hours behind.
Bangor resident Elaine Jones agreed, saying adjacent roads "were not built for heavy traffic and large lorries".
Other motorists spoke of their frustration like Karl Williams who was planning a journey to Rhyl from Anglesey when he got caught in the traffic, taking over four hours to get to Llandudno, 27 miles away.
Simon Jones from Beaumaris, Anglesey, said he encountered similar problems, sitting in traffic for over three and half hours.
Passengers who missed their ferry from Holyhead to Ireland are being warned to expect further delays.
A spokeswoman for Stena said the 21:30 BST sailing was full but there was availability on the 02:30 BST on Thursday.
"The 13:50 Stena was held as long as possible to allow people more time," said the spokeswoman
"Anyone who did miss it is being transferred onto the next available sailing."