Jemma Lowe's father Mike hopes for Welsh London 2012 medal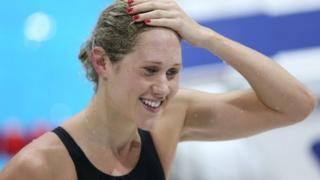 The father of a Team GB swimmer has spoken of his hope that she can deliver a first London 2012 medal for Wales.
Swansea swimmer Jemma Lowe will compete in the final of the 200m butterfly at the Olympic Aquatics Centre in London on Wednesday evening.
Mike Lowe said his daughter had "as good a chance as she's ever going to get" of winning a medal.
He said Lowe had come through a semi-final which was "a lot tighter" than he had hoped.
Lowe, 22, first represented Wales at the 2006 Commonwealth Games and made her Olympic debut at Beijing in 2008.
In Beijing she came sixth in the 100m butterfly, ninth in the 200m butterfly and fourth in the 4x100 medley relay.
Mr Lowe told BBC Radio Wales he felt "fairly calm" about the prospect of her swim later.
"Jemma, like a lot of athletes, is just bubbling under the surface," he said. "They're just waiting to get a breakthrough."
Mr Lowe revealed that in the run-up to the Olympic final his daughter has been working to a plan.
"She's working with a coach pretty closely and the plan last night, so I'm told, was to try and get an outside lane and get away from the mix in the middle.
"I've got to say (the semi-final) was a lot tighter than I would have liked. After her race I thought that's it, she's come fifth and we're out."
Medal
He said Jemma preferred to swim in an outside lane.
"If we wind the clock back a bit, in the world (championships) she went into the final fastest and then she came about seventh, so I think this chance is probably as good a chance as she's ever going to get of getting that medal."
With regard to the news that the bookmakers have the Welsh swimmer in their top four in the final, Mr Lowe commented: "Top three I'll take, but I'm not taking the top four.
"Anything can happen tonight. There's a whole host of things that go into the final, from the pressure of the crowd - the crowd behind you can effect you one way or another.
"On the block you've just got to be ready to shoot off, you've got the turns, (and) you've got the back end of the race which is always a bit of a killer on the 200 fly."