What is the secret behind Wales' Paralympic success?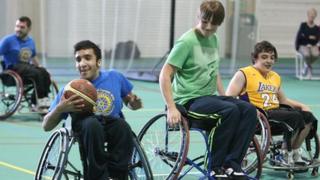 In Beijing, Wales made up 16% of Team GB and was responsible for 25% of its gold medal haul. As an even larger number is fielded for London 2012, what is behind Welsh Paralympic success?
In 2002, disabled people in Wales who wanted to take part in sport had a grand total of 1,200 community sporting opportunities available to them.
That may sound like a lot, but consider that about 350,000 people of working age in Wales have a disability - let alone all the children not included in that number - and it could have been seen as a small number of opportunities spread very thinly.
Fast forward a decade to London 2012, and that number had grown to over one million.
From swimming, athletics and football to boccia, archery and horse-riding, the chances for disabled people to try out a sport are there on an unprecedented scale.
The director of Disability Sport Northern Ireland (DSNI), Kevin O'Neill, said it was recognised across the nations that Wales was leading the way.
"Wales is way ahead of the game in terms of the funding they receive, [which they] put into community sport early on," he told BBC News.
"There has always been a better organisation there. Nothing like it has ever happened in any other part of the UK.
"Wales is way out there in term of medals. They have achieved what they wanted to achieve."
According to Jon Morgan, chief executive of Disability Sport Wales (DSW), the expansion in disability sport began in earnest back in 2002.
"When I came into the organisation we benchmarked what exactly we were doing, what difference were we making to the lives of disabled people," he said.
"What we deliver at grassroots is around activities, it's around fun, it's engagement, all the things that every young person should get involved with, and why should this be different if you're disabled?
"We always said we wanted to be regarded as one of the world's leading nations in disability sport, which is a huge challenge but I think we're beginning to get there. We're a small country but we're ambitious.
"We want every disabled child, young person, adult to genuinely feel they have got an opportunity to get involved in sport."
DSW provided funding for a part-time disability sports development officer for every one of Wales' 22 counties, which some local authorities make up to full-time.
It is the combined work of these officers and their local authorities which have been credited with effecting real change in disability sport provision.
"Over that period of time you can see the way disability sport has grown and grown in terms of significance and priority and now some of the programmes are just unbelievable, what they deliver," Mr Morgan said.
Elite performance
"We're a lot further down the road than we were 10 years ago."
From the community bases, talented athletes are identified and brought into DSW's elite performance academy.
They are provided with the relevant support, coaching and funding as well as help on the way to selection by various UK sporting bodies.
In comparison, Scotland also has a performance academy but the community structure beneath is split into six regions with an officer in each rather than at local authority level. They have 27 athletes in Team GB.
Mr O'Neill from DSNI said the body had a relationship with about half the 26 district councils in Northern Ireland at community level, and put its focus on 10 sports at elite level.
"We still don't have those local initiatives like they do in Wales with every local authority," he added. Eight Paralympians will represent Northern Ireland, six with the Irish team and two with Team GB.
Mr Morgan concludes that Wales' Paralympic success is down to a "very determined approach which has been led by a vision".
"The vision is to enable disabled people to do sporting activity and to provide them with every opportunity along the way to be the best they can be," he said.
"What we did in the early days was we almost took the word disability out of our thinking.
"This was about a national sports programme to provide people with opportunities and once we got people thinking along those simplistic lines we factored disability back into the thinking.
"If you were going to develop a club what would you need? You'd need a base, some equipment, some coaches, you'd need some volunteers, local marketing, oh and by the way, you need to think about some of the issues around disability.
"We worked really hard in those early days to say, this is just about providing sport."