Hayley Roberts in Baywatch-style rescue with Hasselhoff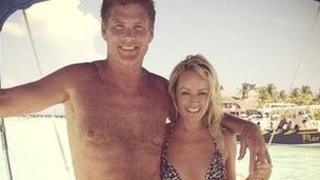 Baywatch actor David Hasselhoff's Welsh girlfriend Hayley Roberts carried out her own real-life sea rescue while the couple were on holiday in Mexico.
The pair were snorkelling when she heard the shouts of a man in difficulty and went to his aid.
Hasselhoff, who became a global star in his TV series about lifeguards, joked that she could have been in Baywatch.
His partner, who is from Glynneath, said she instinctively responded to the man's shouts.
She had been snorkelling with turtles with "the Hoff" when she heard the man's call for help after he suffered cramp near the beachfront resort of Akumal, off the Riviera Maya.
"I was busy chasing a turtle when I heard from far away 'help! help!'," she told BBC Wales.
"I looked up and saw a man in distress. I immediately started to swim towards him out of instinct and shouted to David, who wasn't too far away, 'David, the man needs help!'
"Luckily, as I arrived to him another man was already there.
"The other man and I pulled him in together to where he could stand."
She and Hasselhoff met at an audition in Cardiff when he was a judge on the ITV series Britain's Got Talent.
He has visited Wales and met her parents and has taken to supporting Welsh rugby as she is a big follower of the national team.
But the actor admitted he had struggled to understand her Welsh accent.
Miss Roberts said: "I said to David, 'I made a rescue'.
"He said 'good job - you could have been on Baywatch'."