Olympic triathlete Helen Jenkins does 'Bridgend proud'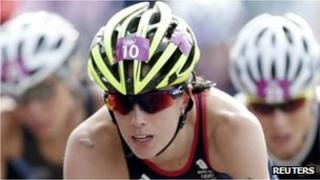 Helen Jenkins has been receiving messages of support after coming fifth in London 2012's triathlon.
World champion Jenkins, 28, from Bridgend, had been a favourite for the women's race at Hyde Park.
About 150 people, including members of Bridgend Athletics Club, where she has trained for more than 15 years, travelled to London to cheer on her on.
Club treasurer Jon Embling said Jenkins was an "inspiration", adding: "She's still done Bridgend proud".
Mr Embling, 56, from Bridgend, said: "Helen has won two world championships to date and certainly in terms of the inspiration that she provokes, and is provoking, is absolutely fantastic and we at the club are striving on the back of that."
Mr Embling, who has been a member of the club for almost 30 years, said club members and those of the South Wales Triathlon Club, travelled to London.
"She's still done Bridgend proud," he added.
"She's the current world champion and we want to support her in all her endeavours."
Jenkins, who had picked up an injury at a previous competition, came over the line looking clearly disappointed.
In an interview on the finish line she was in tears, but thanked the crowds, her supporters and her team.
Messages of support were on social networking site Twitter all morning as she maintained a strong position until the final stages of the race.
Fans said she put up a determined performance and others said they were "gutted" for her.
Team GB messaged on Twitter: "What an effort for @heljinx who gave it her all but lost ground on the front pack and finishes 5th. Congrats!"
Sport Wales chairman, professor Laura McAllister added: "Helen is a wonderful athlete and we are all incredibly proud of her brave performance at Hyde Park today.
"She came so close to a medal and all of Wales will have been cheering her on.
"Clearly her injury was a factor but she was typically gutsy to stay in contention for much of the race and so gracious in defeat.
"Helen has been one of our most consistently high performing athletes for some years now and there are few better female role models on the world stage and we are sure she will have inspired many more women and girls to take up sport today."