Sir Harry Llewellyn won last Team GB showjumping gold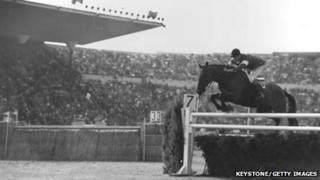 The last time Team GB struck gold in Olympic showjumping it was 60 years ago with Sir Harry Llewellyn and horse Foxhunter.
They became heroes winning the gold medal for the British equestrian team at Helsinki with a final clear round.
Monday saw Britain's first Olympic showjumping medal since 1984 and their first gold since Sir Harry captained the team to gold in 1952.
The baronet died aged 88 in 1999 at his home near Abergavenny in Monmouthshire.
And a plaque marks the spot where Foxhunter's ashes were buried on a mountain near Abergavenny in 1959.
Born in 1911 in Aberdare, and named Henry Morton Llewellyn, Sir Harry was the second son of colliery owner Sir David Llewellyn.
He was educated at Oundle School and Trinity College, Cambridge.
Sir Harry became a senior figure in the equestrian world where his close colleagues included the Duke of Edinburgh.
The plaque to Foxhunter's memory shows the competitions they won together and is testimony to a famous career.
The international showjumper competed 35 times as a member of the British showjumping team, taking team bronze on Foxhunter in the 1948 London games before the two jumped to an elusive gold in 1952.
The success - after a clear second round - in Helsinki came just before the end of an otherwise disappointing Games in which Britain had failed to win gold.
Sir Harry was a regular steeplechaser before the war, being placed second and fourth in the Grand National in 1936 and 1937, respectively.
His military achievements were also recognised as he quickly rose in rank to Lieutenant Colonel and was awarded the OBE in 1944.
Sir Harry worked as senior liaison officer to Montgomery for the whole of the north-western Europe campaign, earning the American Legion of Merit for his services.
After his death his ashes were scattered near the spot where his beloved horse was buried.
Sir Harry was father to the late socialite Sir Dai Llewellyn who inherited his father's title before it went to his other son, Roddy Llewellyn, who became widely known for his relationship with the late Princess Margaret.
Now Nick Skelton, Ben Maher and Peter Charles finally repeated Sir Harry's feat of 60 years ago in a jump-off with the Netherlands to snatch gold.
Fellow Welsh Olympic equestrian gold medallist Richard Meade told the BBC: "I'm old enough to remember Harry Llewellyn winning that gold in 1952 in Helsinki, and this is amazing, a terrific performance result.
"There will be children out in the holidays grooming their ponies, thinking and dreaming of medals in the future. I also remember as a child the 1948 games and even that inspired me."