Beavers' return to Wales concerns NFU Cymru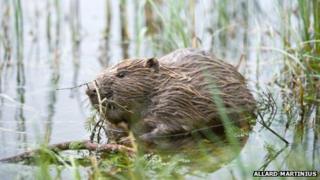 A farming union is warning that proposals to return beavers to Wales after 600 years would be like introducing a new species.
Six wildlife trusts want to release up to 20 pairs, saying it will help to cut flooding risks and boost biodiversity.
NFU Cymru said "time has moved on" since beavers were hunted to extinction and all the land near rivers is needed for food production.
The Welsh government's approval is needed to bring back beavers.
Last year two female European beavers were introduced into a 2.5 acre enclosure over a weekend in Cwm Einion near Machynlleth, Powys, which conservation volunteers said was "like Fort Knox".
The idea of returning European beavers to Wales' river valleys is outlined in a report by the Welsh Beaver Project, drawn up after more than five years' research.
It points out that beavers disappeared from Wales because they were hunted for their meat, fur and scent glands, not because their habitats were destroyed.
Co-ordinator Adrian Lloyd Jones said not all beaver territories would require the animals to dam. Also, dams could be modified or removed, if found to be a problem, to allow salmon to pass and prevent localised flooding.
As a last resort, trapping and relocation or even lethal control was an option, he added.
Beaver dams would help reduce flash floods by slowing down rivers in spate, he said, with the control of water flow helping to clean rivers by allowing sediment to drop, leaving silt beds clearer for spawning salmon.
'Gentle and effective managers'
He said: "They are very gentle and effective managers of wetland and river woodland habitat."
But NFU spokesman John Kendall said: "This is, in our view, a species introduction, not a reintroduction.
"It is all well and good saying that they were around when Giraldus Cambrensis toured Wales but time has moved on and we can be sure that neither Gerald of Wales nor the beavers of the time saw a forage maize crop to get their teeth into."
The beaver project maintains that 95% of the animals' activity is within 10 metres of river, 98% is within 20 metres and almost 100% is within 100 metres.
But farmers' leaders say a beaver release trial in Scotland since 2009 shows they can range much further than that and evade capture.
Mr Kendall said: "The actual legality of their control may be open to question under European law as will be the public support for doing so.
"In addition, agri-environment schemes are encouraging riverside planting and regeneration of trees. This would not then be an option in the catchments where beavers are introduced.
"The European beaver itself presents no problems, the harm is in the effects it can cause."
The beaver project said the dams created by released animals could cause "small-scale flooding" in the form of ponds but their benefits to the environment and wildlife would outweigh the costs of their management by a factor of up to 100.
A Welsh government spokesperson said it welcomed the consultation, but that any reintroduction of beavers would require its prior approval.