School inspectors 'owed thousands' by EPPC Severn Crossing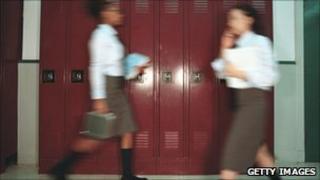 Some school inspectors in Wales have not been paid for inspections carried out over the last year, the BBC understands.
They were working on a freelance basis for EPPC Severn Crossing, a company run by former Labour MP Gwynoro Jones.
According to accounts, the company has debts of £180,000.
Estyn, the Welsh government's education inspectorate, said a company risk assessment was taken. Mr Jones could not be contacted for comment.
The company was contracted by Estyn to carry out inspections in Welsh schools.
The school inspectors claim they are owed thousands of pounds by the company, and have provided BBC Wales news with documentary evidence to support their claims.
They say they have been promised some of the money, but not all of them expect to be paid in full any time soon.
According to EPPC Severn Crossing's latest accounts, the company has debts of around £180,000 and it has suffered substantial setbacks in recent years due to the lower number of inspection contracts awarded on tender.
The documents also state that the company was still a going concern, and would return to profitability in the short and medium term.
A proposal was lodged at Companies House earlier this week to strike EPPC Severn Crossing off the register of companies.
It has been late in filing its annual returns, and if those documents are not filed within the next three months the company will be struck off and cease to exist, unless the owner raises an objection.
Conservative AM Angela Burns said: "These are concerning allegations, although I recognise the steps Estyn has taken to bring all inspections in-house from next month.
"Everyone deserves an appropriate wage for a decent day's work, so it is worrying that school inspectors appear not to have been paid.
"I'm sure Estyn would wish to examine these allegations and clarify their position."
Since 2010, Estyn has significantly reduced the number of inspection contracts it awards to outside companies, and from September, all inspections will be carried out directly by Estyn.
In a statement, Estyn said: "Companies invited to tender were required to submit financial statements by the end of February 2010 for the latest available accounting period.
"A risk assessment was undertaken on whether further financial checks should be undertaken and the decision taken that there was little benefit in doing this as the risk to Estyn and the public purse was minimal.
"Had Estyn been made aware of difficulties being experienced by sub-contractors at any time from 2008 we would have reviewed the position of EPPC and responded appropriately.
"It is regrettable if one of Estyn's contractors has failed to pay their sub-contractors promptly.
"However, although we have heard allegations, Estyn has not received any official complaints relating to EPPC.
"Since we were told about the alleged debts we have corresponded with EPPC to ask for an explanation but have not received a reply… It is our understanding that the sub-contractors' legal remedies lie against EPPC."
A Welsh government spokesman said: "Estyn is independent of the Welsh Government. This is a matter for them."
BBC Wales news tried to contact Gwynoro Jones to ask him about the allegations made by the school inspectors, but numerous attempts failed to get a reply.