'Heroes' welcome' home for athletes planned at Senedd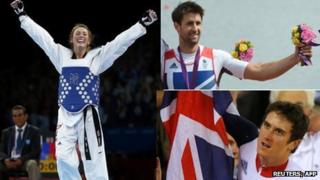 Wales' Olympic and Paralympic competitors are to have a homecoming ceremony next month, First Minister Carwyn Jones has announced.
He said Wales had "played its part" in Team GB's medal haul, with a record seven medals, including three golds for Welsh competitors.
"Everyone in Wales can be truly proud of what our athletes have achieved as part of Team GB," he said.
A "true heroes' welcome" is planned at the Senedd in Cardiff on 14 September.
Cardiff welterweight boxer Fred Evans hoped to earn a fourth Welsh gold but had to settle for silver when he fought in his final on Sunday afternoon.
Meanwhile, other Welsh athletes in Team GB were preparing for the closing ceremony of the Games.
'Truly inspirational'
The Olympic Flame will be extinguished, signalling the end of the event, but the Welsh assembly and Welsh government already have plans for a ceremony on the steps of the Senedd in Wales to mark their contribution to the Games' success.
Mr Jones said: "Their determination and drive has been truly inspirational and made a huge contribution to Britain's record medal haul."
Describing London 2012 as "the greatest Games ever" he said: "Wales has played its part, from hosting the training camps of a number of nations ahead of Games, to welcoming the world to the Millennium Stadium for the 11 Olympic football matches.
"We have strong Welsh links to Team GB's world beating cycling team, who held some of their pre-Games training at the Velodrome in Newport."
Sports Minister Huw Lewis said London 2012 would "certainly live long in the collective memory of our small nation".
He added: "The success of our Welsh athletes is something we can be extremely proud of and their inspiring performances have already resulted in a noticeable increase in interest at sports clubs up and down the country."
'Courageous performances'
Assembly presiding officer Rosemary Butler promised a "true heroes' welcome home" for the athletes.
She said: "It is the Welsh athletes who have really put Wales on the map with their dedicated, and often courageous performances at all the Olympic arenas.
"Some have won medals and we are rightly proud of them, but all those Welsh athletes who took part are heroes and role models to us all."
The Paralympics begin at the end of August.
Before those Games begin, the replica Olympic rings in front of Cardiff City Hall will be replaced by the three Paralympic "agitos", sweeping curves in red, blue and green.
On their return from the 2008 Beijing Olympic Games, 10 Welsh members of Team GB took to an open-top bus tour and were greeted by a 2,000-strong crowd in Cardiff Bay.
James and Thomas were gold medallists in that team along with cyclist Nicole Cooke.
A number of Olympic and Paralympic teams have based themselves in Wales and the Millennium Stadium held the Games' first events, football matches.