Cycle route network around Wales calls after Olympics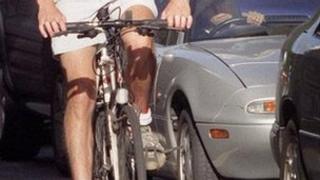 Calls have been made to ensure people keep using their bikes as Team GB basks in its Olympics success and with cycling in Wales at an all-time high.
Sustainable transport group Sustrans Cymru says an integrated cycle route network must be properly established.
The Welsh government is consulting on a proposed Active Travel Bill which would make councils set up network routes.
Sustrans' Jane Lorimer said the infrastructure was needed to help turn people into regular cyclists.
"For the vast majority of people, cycling as a sport isn't an option and we are advocating taking it up for short journeys," she said.
"But our research shows it's concerns about safety and belief that journeys take longer than they do to drive can put them off."
She said having a cycling network would make cycling a "desirable choice," with this a key time to get more people on a bike before the "Olympic buzz dwindles".
Great Britain won seven out of 10 track cycling golds at the London 2012 Olympics, and on the road, Tour de France winner Bradley Wiggins won gold in the men's time trial and Lizzie Armitstead won silver in the women's road race.
Governing body British Cycling said there had been a 25% increase in Welsh members in the last year - about 70% of them are competitive cyclists with the rest including commuters.
Sustrans released a report as a submission to the consultation for the Active Travel Bill, which it said needed to have clear targets to increase levels of physically active travel.
The latest statistics show that one in five Welsh adults are classed as clinically obese, over half are overweight, and more than 70% fail to reach the recommended levels of moderate physical activity.
The report's writer James Jarrett said: "Prevention really is better than cure when it comes to getting around actively.
"More and more health experts are prescribing walking and cycling to help lessen the massive health and financial burden of diseases like type two diabetes and heart disease."
"Wales has some of the highest childhood obesity in the world.
"The Active Travel Bill is a practical response to this growing epidemic and has the potential to be one of the most effective public health interventions since the creation of the National Assembly."