Millionaire quiz winner Dawn Harkins reunites with son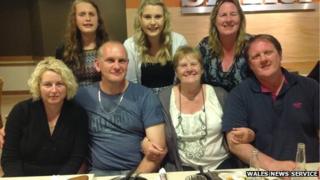 A mother has described being reunited with the son she had to give up for adoption 45 years ago as "amazing".
Dawn Harkins, 61, from Anglesey, went to Brisbane, Australia, to meet son, Glyn, after her daughter was able to track him down.
Mrs Harkins funded the trip after winning £75,000 on TV quiz show, Who Wants To Be A Millionaire? in July.
She said was glad she had got the chance to meet her son and he agreed that it was "fantastic".
"I'm so glad I got the chance to meet Glyn and to give him a great big hug," she said.
Mrs Harkins was 15 when she gave birth. She spent six weeks with her baby, saying it was "a taboo" to be a single woman with an illegitimate child in the 1960s.
Her parents gave their permission for her son to be adopted.
"I had no say on it at the time. I was just 15 and in 1967 you didn't have an option," she said.
The grandmother-of-six went on to marry and have two other children but never forgot her first born so daughter Samantha, 41, began searching for Glyn using adoption forms.
'Couldn't believe it'
He had been adopted by a family from Manchester and emigrated to Australia as a teenager.
"I can't begin to tell you how I felt when Sami told me she'd track him down," said Ms Harkins.
"When she told me she had found him, I just couldn't believe it.
"It was just before my birthday and she said 'happy birthday mum, I've found him."
Mrs Harkins had named her baby Keith - but he was renamed by his new family.
"My children have always known they had a brother and Samantha decided to track him down. It took three months but eventually she found him," she said.
"I was worried that we might face rejection but, fortunately, he wanted to get to know us too.
"But going on Millionaire made it possible for me to go down to Australia to see him for the first time since he was a six-week-old tot."
She flew out to Australia with daughter Samantha and son Brian, 40, and they met with Glyn and his wife Alison and their two daughters Jessica, 15, and Natalie, 14.
Glyn, who runs a flooring company in Brisbane, said: "It is fantastic to be with my mother after all those years. I'm so glad she got those questions right."