My Olympics: Fireman's 'breathtaking' Games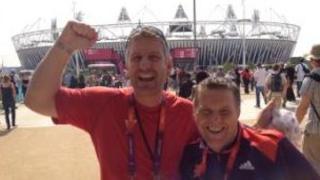 In the last of a series on the Olympics experience, Wrexham-based fireman Steve Roberts describes the "breathtaking" experience of leading a team of 60 staff who tested athletes in the biggest anti-doping operation in Olympics history.
"It was out of this world. Money couldn't buy the experience I had. It is something that will live with me for the rest of my life.
I do work for UK Anti-Doping when they were putting teams together, they put my name forward to Locog.
I've done a lot of big events in the past but not not to the extent where it's 160,000 people each day in the stadium and the superstars are from around the world.
There was two athletics sessions - one in the morning and one in the evening.
I was in charge of the evening sessions where we carried out the tests following all the finals and some randoms.
I would be at the stadium for about 3pm. I would go through the sessions to see what the events were and I would carry out the draw with one of the doctors for who would be random tested. All the medallists also got tested.
That would take about an hour and then the teams - doping officers and blood collection officers - would start to arrive. Then I would brief them.
We would be subject to scrutinisation ourselves by warder observers to make sure we are carrying out our duties and protocol.
'Very clean games'
My job is to manage a team and make sure an athlete has a pleasant experience in doping control.
Luckily, it seems it was a very clean games. Up to 1,000 athletes came through doping control at the stadium. They realise how important these tests are and they are very good about providing samples.
These top athletes are heroes. I realised that when I came out of doping control with them and there were 100 people waiting to speak to them.
There are two samples taken. The A one is tested immediately and the B sample is frozen and kept for up to seven years. Obviously, if anything was discovered at a later date with new technical advances, a guilty athlete would be stripped of any medal.
I was fortunate enough to catch a couple of races by chance having to go out and talk to some of the staff.
But most of the time I was far too busy behind the scenes dealing with the elite of the elite and to make sure they enjoy coming into doping control.
Once they leave the track they are not allowed out of sight by one of our minders - through the mix zones, the press conferences and medal ceremonies.
I was fortunate to meet Usain Bolt, Mo Farah, Jess Ennis and Greg Rutherford. It's quite refreshing to see how humble they are.
That all happens from 7pm until about 1am as we collected the samples we needed and then they were collected by UPS to be delivered for testing elsewhere.
Before the Games, I was involved with pre-testing and before the athletics started, I was fortunate to work in the aquatics centre to see Michael Phelps become the greatest Olympian ever and Becky Adlington swim herself into bronze.
It wasn't leisure, I was helping another manager who was working at the aquatics centre.
The whole experience was breathtaking. I can't describe how it was.
But it wouldn't have been possible without the support of my workmates, colleagues and senior management at North Wales Fire and Rescue.
I'm back at work now but will be returning to London for the Paralympics in a couple of weeks. But I've also had an invitation to work at the Winter Olympics in Sochi in Russia, and also to the 2016 Olympics in Rio."