Giant Paralympic symbol the Agitos unveiled in Cardiff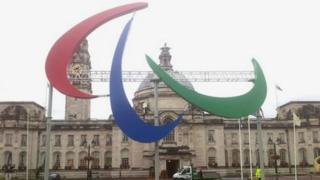 The Paralympic symbol, the Agitos, has been unveiled in Cardiff, replacing the Olympic rings that had been displayed outside City Hall.
The red, green and blue strokes of the Agitos are the Paralympics' counterpart to the Olympic Rings.
They will be displayed in Cardiff for the duration of the Paralympics, which run from 30 August to 9 September.
They are the first of first of five sets of giant Paralympic Agitos to launch in the UK.
They are the biggest to have ever been installed to date.
Miranda French, of Disability Wales, said it was "fantastic" that the Agitos were in Cardiff.
"It's fantastic. It's a great opportunity to show case disabled people's abilities as professional athletes and we're all very excited," she said.
"I can't wait to see the symbol outside City Hall.
"It's going to be a great photo opportunity once again."
Members of the Australian Paralympic team, who are at a pre-Games Training Camp in Cardiff, were in attendance to celebrate the launch of the symbol on Friday, alongside members from Cardiff Celts Wheelchair Basketball team who will perform a sports demonstration.
Caroline Matthews, from the Cardiff Celts, who was part of the GB Paralympic wheelchair basketball team in Athens 2004 and Beijing 2008, said she was looking forward to the start of the games, at which she will commentate.
"It will be incredible going to any massive event like that as a participant," she said.
"It's a life-changing event and I have got memories from Athens and Beijing that will stay with me for ever."
The preparations for the Paralympics continue next Wednesday when a group of scouts will light a flame at the top of Snowdon to begin a torch relay for the Games.
The flame will then be placed into a lantern and transported to Cardiff.
A day of Paralympic celebrations will then take place in Cardiff on Monday 27 August. Conwy and Swansea have also been chosen to host celebrations.