Rethink over oldest ringed pied flycatcher record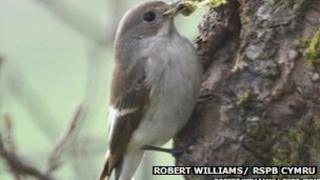 Experts say they no longer believe they found the oldest recorded female pied flycatcher in Wales.
There was initial excitement when data from a ringed bird appeared to show it was aged 16, much older than has previously been recorded.
The small bird migrates annually from west Africa to spend the summer in Wales so experts were surprised to have found one reach such an age.
However, further research now suggests the data was probably misread and the bird spotted in a forest near Clocaenog, Denbighshire, now appears to be aged only two.
The British Trust for Ornithology (BTO) explained why it was important to be sure.
"Much of the work the BTO carries out is reliant on data of the very highest quality, so for such an important record as this it is essential that all the details are accurate," said a spokesperson.
"Data from ringing projects such as this are used to monitor trends in productivity, recruitment and survival of some of our declining migrant birds."
He explained that in all ringing operations, the welfare of the bird is paramount, so rings are produced that are as small and lightweight as possible.
Each ring carries a return address and the unique number that identifies the bird, meaning that the digits are rather small.
"In this particular case, it is likely that the ring number of this bird was X797616 instead of K797616 as originally recorded," he said.
"In a bizarre coincidence, both of these rings were put on Welsh pied flycatchers, hence the confusion, but X797616 is only two years old rather than 16."
However, he explained that while "we can't be certain that a single misread digit is the correct explanation" it is the "likeliest explanation".