Cardiff binge drinkers to see themselves on video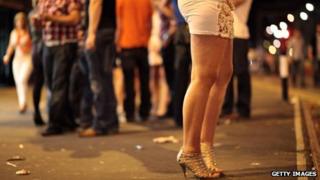 Cardiff binge-drinkers who need medical treatment are to be filmed, and given the option to watch the video once they have sobered up.
It is part of a 12-week pilot project with revellers with minor injuries taken to a triage centre easing pressure on the city's hospital.
The £85,000 cost will be met by the Welsh government.
The local health board says up to 60% of ambulances and A&E beds are used for alcohol cases at weekends.
Surprised
While it is hoped that the videos will shock drinkers into changing their ways, Conrad Eydmann, head of substance misuse strategy and development for Cardiff and Vale University Health Board, says nobody will be forced to watch them, and that they will not be stored or used for any other purpose.
The new triage centre is at Ebenezer Chapel in Charles Street.
"We're looking at securing camera equipment inside the building. There will be a basic capacity to film people on arrival and as they leave," said Mr Eydmann.
"Part of that will include the option for individuals to review the video of their arrival. It indicates how alcohol can affect their behaviour.
"Our intention is that the vast majority of people will be surprised and hopefully concerned about the state of their behaviour."
A recent survey by Alcohol Concern Cymru claimed that up to 20% of the adult Welsh population admit to binge-drinking - that is drinking more than eight units in a session for men, and six units for women.
Get to grips
And whilst strategies like those adopted for this pilot have been broadly welcomed by the likes of South Wales Police, some campaigners warn that its merely tinkering around the edges of a bigger problem.
"New plans to open a triage in the centre of Cardiff are to be welcomed, and have the potential to be replicated elsewhere in Wales," said Mark Leyshon, spokesman for Alcohol Concern Cymru.
"But without policies that effectively target the cheap price of alcohol, such as a 50p minimum unit price, and restricting the density of premises selling alcohol, then we may continue to struggle to get to grips with one of Wales' biggest health problems."
The triage centre will be open Wednesday and Saturday nights, which have been identified by local nightclubs and Cardiff student unions as the busiest periods.
It will be headed by an experienced A&E doctor, assisted by nurses, health-care professionals, and a permanently-assigned police officer to maintain order.
Doors open from mid September until the end of January, taking in two of the worst spells for alcohol-related incidents - freshers' week and the Christmas festivities.
Cardiff University have been asked to evaluate its success in the New Year, and following this, it is hoped that the project could be made permanent.