GCSEs: Cross border experiences of exam system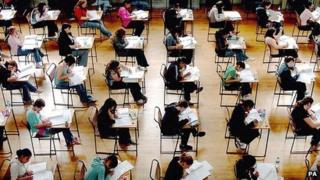 Amid talk of scrapping GCSEs in England and whether Wales should go its own way, education correspondent Nicola Smith finds out what parents and teachers think.
Couple Greg and Paula Dixon are both head teachers - Mr Dixon at Connah's Quay High School, Flintshire, and Mrs Dixon at Prenton High School for Girls, across the border in Birkenhead, Merseyside.
Connah's Quay is a typical comprehensive but Prenton High is an academy, which is controlled by the government not the local authority.
They are two very different schools united by the fact their pupils study GCSEs.
But that could all change soon.
Wales already offers a different qualification, the Welsh baccalaureate, as part of GCSE and A Level courses.
Mr Dixon would rather be a part of the Welsh education system than the English one but is wary.
"For Wales to go completely its own way would be high risk - high risk for our learners," he said.
Significant
"We've got to make sure they leave us with qualifications that are recognised and are of the same value as the qualifications that learners are acquiring across the border."
Prenton High, 16 miles away, is in the middle of significant change.
It is one out of almost 2,000 schools across England that has become an academy.
The school now has more freedom to opt in, or out, of the national curriculum.
But Mrs Dixon does not want to opt out of GCSE exams.
She argues they are still the best judge of every child's ability. She is uncomfortable with Education Secretary Michael Gove's idea to scrap them in England.
Mrs Dixon said: "I think at the moment we're losing our way a little bit. We're being told we've got to go back to what it used to be like with O Levels and CSEs.
'Choice'
"I think they're changing things very quickly in the English system at the moment," she said.
Parent Lee Maclennan, who has two children at Connah's Quay High, is happy with the decisions made by the Welsh government on qualifications.
He thinks it is right to keep modular assessment at GCSE, whereas England will be dropping it for courses starting in September, and he welcomes Wales' policy to offer at least 30 subjects to each pupil at GCSE.
But despite that broad support, it is funding that he feels is unfair.
"I'm very disappointed with the funding available to Welsh schools. It's quite a significant amount as well, over £600 per pupil per year."
"There's a lot of benefits for the extra money that could go into the school itself."
Chris Pearce, a parent from Prenton High School for Girls, believes that funding shortfall is "grossly unfair".
Mr Pearce said his two daughters had a choice of secondary school, which he thinks would also benefit Welsh pupils.
The UK government's Department for Education says fundamental reform of GCSEs is needed so they are rigorous and match the best in the world.
The Welsh government says it has encouraged local authorities to delegate 85% of their budgets to schools by 2014.
It says it remains committed to the development of the comprehensive system, which it believes addresses the needs of everyone.
Two different systems and two different governments - and a future that may or may not include GCSEs.