New sick babies unit plan by Hywel Dda health board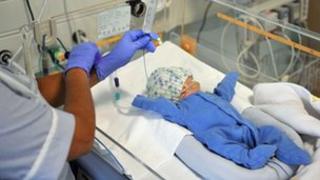 A new unit to provide specialist care for sick and premature babies could be set up in west Wales under plans unveiled by Hywel Dda Health Board.
Babies in need of complex specialist care are currently sent to Swansea's Singleton Hospital - a two hour drive away from the home of some patients.
But there are plans for a similar unit at Glangwili Hospital, Carmarthen or at Withybush Hospital, Haverfordwest.
Neonatal charity Bliss said any change must ensure babies' safety.
The nurse-led neonatal care at Bronglais General Hospital in Aberystwyth would remain open under the plans to stabilise and transfer emergency neonatal cases.
The health board provides healthcare to around 372,320 patients throughout Carmarthenshire, Ceredigion and Pembrokeshire.
It currently has level one neonatal care units at Glangwili Hospital and Withybush General Hospital in Haverfordwest, which provide the basic level of care, along with a nurse-led neonatal unit at Bronglais General Hospital in Aberystwyth.
But if babies need more complex care, provided at a level two neonatal unit, or intensive care, they have to travel to hospital in Swansea or further afield.
For people living in the Aberystwyth area, this can mean around a two-hour, 50 mile drive.
The new unit would be co-located with a complex obstetric unit, for women where a risk has been identified with their pregnancies.
The health board is consulting on the plans - part of NHS reorganisation in Wales - and said it would welcome feedback from members of the public.
It says its preferred option would be to site the new unit at Glangwili, which would mean the closure of the current baby care unit at Withybush, although the nurse-led unit at Bronglais would stay open.
But it is also considering putting the unit at Withybush and closing the current unit at Glangwili.
Dr Simon Fountain-Polley, Hywel Dda's clinical director for child and adolescent health, said the level two neo-natal unit would provide "all aspects of high dependency care" for sick and premature babies "much closer to home".
"Currently, babies requiring this level of care are often sent to Singleton Hospital and sometimes even further afield," he said.
"The level two unit would allow us to care for these babies within our own area, as well as return babies with even higher level needs earlier, thus bringing families back together more quickly."
The health board said it hoped the new units would be at Glangwili Hospital because of the higher number of births that take place there.
It also said it would be relatively close to the level three neonatal unit at Singleton Hospital, which provides intensive care.
Financial impact
It added that currently none of the special care baby units within the health board fully comply with Royal College guidelines and the current services also struggle to meet All Wales Neonatal Standards.
This means they are unable to provide ongoing specialist care to sick babies.
A spokeswoman for neonatal charity Bliss said: "If the provision for critically ill babies is not adequate in a particular area, there could be a need for change to ensure babies receive the very best care no matter where and when they are born.
"Any reorganisation or reconfiguration of neonatal services as within the Hywel Dda health board, must ensure safety and that the highest level of care for babies is the main priority."