Glan Clwyd Hospital treatment delays 'factors in OAP death'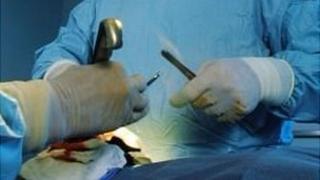 An inquiry into the treatment of an elderly man who died after being admitted to Glan Clwyd Hospital found "significant shortcomings" in his care.
The man, known as Mr Y, had Alzheimer's disease and died in November 2009 after surgery to drain an abscess.
The Public Services Ombudsman for Wales Peter Tyndall found delays in diagnosis and carrying out the surgery.
Betsi Cadwaladr University Health Board (BCUHB) has agreed to apologise to the family and pay £3,000 compensation.
The ombudsman upheld a complaint by the man's daughter, saying the delays were "significant factors" in the patient's death.
He recommended a review of procedures, audit and training, which have been accepted by the health board.
The man was admitted to the hospital on 22 October, 2009 with urinary retention.
He suffered with chronic obstructive pulmonary disease - a narrowing of the lung's airways - Alzheimer's disease and had difficulties communicating.
But the man died on 7 November following extensive surgery to drain a perianal abscess and a serious infection that was spreading rapidly.
The ombudsman found the delay in diagnosing the patient's abscess and in carrying out surgery were significant factors in his death.
He also found:
A lack of review by a consultant urologist.
A failure by doctors to record consistently and act upon significant test results to review the initial diagnosis.
Poor communication between medical staff and the family.
Missed opportunities to obtain information from the family, given that the patient had Alzheimer's disease and communication difficulties.
No overall nursing plan in place for the man and there was a failure to reassess as his condition deteriorated.
'Inadequate'
The ombudsman also criticised the decision not to carry out surgery late at night - when his condition was reviewed by a junior anaesthetist - and the lack of direct communication between the consultant anaesthetist and consultant surgeon.
In the report, the ombudsman said he had previously raised concerns about care at Glan Clwyd hospital.
He added record keeping was "inadequate", food charts were incomplete, and fluid charts were "poorly recorded with large gaps in time or no recording for parts of the day".
He said his investigation confirmed "significant shortcomings" in both the man's medical and nursing care.
"As with so many of the complaints I see there was poor communication between doctors, and between doctors and nurses, within the same team when Mr Y was on the urology ward."
Mark Scriven, medical director for BCUHB, said the board accepted the recommendations in full.
"Clearly in this instance, standards of care fell below the level patients and their families should expect us to provide," he said adding changes would be made.
"These will include auditing clinical notes, reminding junior doctors of the importance of recording test results, improving communication between clinical teams and updating our training," he said.