Doctor shortage in Wales 'frightening' claim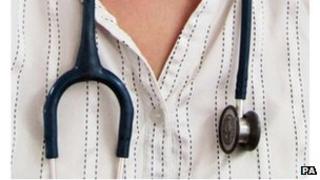 A shortage of doctors at hospitals in Wales has been described as "frightening" by a patients' watchdog.
More than half of health boards told said they are having difficulty.
The revelation comes as Neath Port Talbot Hospital stops accepting 999 medical emergencies and GP referrals.
Carol Lamyman-Davies, director of the Board of Community Health Councils in Wales, said recruitment was proving very costly. "It's quite a frightening situation to be in," she said.
"There is use of agency and locum doctors to fill gaps in rota shortages and that's a costly way of dealing with urgent long-standing issues."
There were acute shortages facing emergency medicine, paediatrics and psychiatry in particular.
Disadvantage
Ms Lamyman-Davies said health boards could improve matters by taking the opportunity of reorganisation to centralise certain treatments.
"What we need to see are safe, high quality sustainable services," she said.
"What we are seeing are too many hospitals offering too many specialisms.
"We are seeing minor injury units in some parts of Wales who on average are only seeing three patients per day.
"Clinicians need to have their continuing professional development kept to a high degree and that won't happen if they are not being used or seeing patients on a daily basis."
She added that other issues put Wales at a disadvantage in attracting medical staff.
"Graduates outside Wales have a confusion about the names of our health boards," she said.
"Very few I would imagine would know where Betsi Cadwaladr health board is.
"There is I think a feeling outside of Wales that graduates and clinicians need to have the ability to speak in Welsh to work here."
Roy Lilley, an independent health policy analyst and former NHS trust chairman, said that working in Wales may not be an attractive option for trainees.
"A junior doctor could get shunted from north Wales to south Wales in their training which is very disruptive for home and family life," he said.
"If you've got the choice between a well-known London teaching hospital or Manchester or Birmingham why would someone want to train in Wales?"
Dubai recuitment
Senior staff at Abertawe Bro Morgannwg Health Board (ABM) said the changes at Neath Port Talbot Hospital were due to doctor shortages.
A Dubai recruitment drive had yielded only one suitable clinician.
Emergency cases will now be handled by hospitals in Swansea and Bridgend while all other services at Neath Port Talbot continue.
ABM chief executive Paul Roberts said: "It is important to remember that this urgent change is being made for safety reasons and on the advice of senior doctors.
"We are determined that patients receive a safe and effective service with the minimum of inconvenience."
Other health boards confirmed to BBC Wales that they too had suffered some shortages of doctors in certain areas.
Cwm Taf Health Board in the south Wales valleys confirmed that a "small number" of orthopaedic operations at the Royal Glamorgan Hospital, Llantrisant, had been cancelled because of problems recruiting trainee doctors.
Betsi Cadwaladr University LHB in north Wales said it had problems recruiting in paediatrics, emergency and some areas of mental health.
Powys Teaching Health Board said it had difficulty recruiting a consultant in care of the elderly but had used locum cover to provide services.
Hywel Dda Health Board, serving mid and west Wales, referred to the need to develop more specialist services as it suffered from national shortages due to having four relatively small main hospitals across a large geographical area.
Aneurin Bevan Health Board in south east Wales said it was having problems in areas with recognised shortages at a national level, such as emergency medicine, mental health, obstetrics and gynaecology, and paediatrics.
But it stressed there was no "immediate impact" on patient care due to the use of locum doctors and "internal solutions".
The Welsh government said it was aware of the issue and was pressing ahead with its recruitment drive.