GCSEs: Wales' pupils aim to close exam performance gap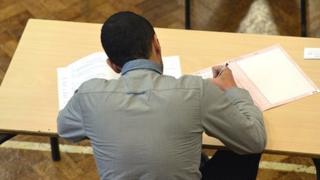 GCSE results being published on Thursday will reveal whether Wales has caught up with other parts of the UK.
Last year, a record gap emerged at A* to C, despite the fact results had improved in the top grades.
GCSEs are taken by almost all pupils as they reach the end of their compulsory education.
Last year, fewer than half of school leavers in Wales achieved five or more A* to C grade GCSEs including English, or Welsh, and maths.
Last year, there were more A* to C grades awarded and this was described as a "modest improvement".
Despite this, Wales still lagged behind England and Northern Ireland.
Education Minister Leighton Andrews has said tackling problems with literacy and numeracy were two of his priorities.
Furthermore, secondary schools in Wales are now ranked in bands, which the Welsh government says is to highlight those schools which require extra support.
Schools are judged on 12 categories, which include GCSE performance and pupil attendance levels. They are rewarded if they make progress in those areas.
The number of pupils eligible for free school meals is also taken into account.
Schools will be banded again in December so this year's GCSE results will matter. Small differences can make significant banding changes.
Head teachers say they do their best to help pupils achieve the best GCSE results no matter whether banding exists or not.
In England, Education Secretary Michael Gove is considering plans to overhaul the secondary school exam system.
He wants to replace GCSEs and return to O Level-style exams in traditional academic subjects like English, maths, the humanities and science.
'Diverge'
Even though Mr Andrews has dismissed such changes for Wales there is a review of qualifications underway which was commissioned by the Welsh government.
It is looking at whether new qualifications for 14 to 16-year-olds should replace GCSEs and to what extent the Welsh qualifications system should diverge from those in England and Northern Ireland.
Its findings will be published by the end of the year.