GCSE pupils in Wales told 'not to panic' as results due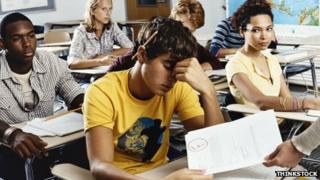 Wales' careers service is advising teenagers receiving their GCSE results "not to panic," if they do not receive the grades they had hoped for.
Careers Wales said there were "many routes available" for pupils to weigh up the options available to them.
Thousands of youngsters across Wales will receive their GCSE results on Thursday.
The exams are taken by almost all pupils as they reach the end of their compulsory education.
"GCSE pupils across Wales will be collecting their exam results, putting an end to an anxious few months for many young people," the advice service said.
Advice
"Careers Wales is urging them not to panic, as whatever their exam results are, there are many routes available to them, and lots of advice on hand to help them weigh up their options."
The organisation in its annual pupil destinations survey found 85% of pupils chose to remain in full-time education in 2011.
A survey of Year 11 pupils also found a 1% drop in the number of youngsters not in education, employment or training - known as neets - over a five year period to 2011.
The figures stands at 4% on average, and is slightly higher for boys.
Careers Wales chief executive Trina Neilson said the findings were "encouraging".
She said: "They demonstrate that young people have been taking their time to put thought into their decisions and either continue with their education or utilise the many training and apprenticeship schemes that the Welsh government has designed to help with their future employability."