Wales organ law change 'needed despite transplant rise'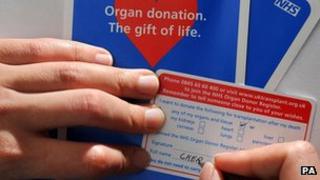 Supporters of plans to change the organ donation law in Wales say it is still needed, despite a rise in the number of transplants.
Between 2011 and 2012, 240 organ transplants took place on patients, compared with 203 the year before.
Dr Chris Jones, NHS Wales medical director, said too many people were still dying waiting for transplants.
But those against the Welsh government plans say the fact transplants have risen suggests a change is unnecessary.
The Welsh government published legislation to introduce the UK's first opt-out organ donation system in June and it could be in place in Wales by 2015.
People will be deemed to have consented to becoming donors unless they opt out of the organ donor register.
Officials say it could mean 15 extra donors leaving about 45 more organs for transplant every year.
Statistics from NHS Blood and Transplant (NHSBT) show the number of people in Wales waiting for a transplant has fallen, from 309 in 2010-11 to 284 in 2011/12.
Figures also show that:
41 people died waiting for a transplant in Wales, a fall of 10 on the previous year.
There were also 67 deceased organ donors in Welsh hospitals, compared to 66 in 2010-11.
The percentage of people who are on the organ donor register has remained the same at 31%, which is higher than the UK average.
The Church in Wales has spoken out against plans for an opt-out system, along with the Roman Catholic Church in Wales and the Wales Orthodox Mission.
'Welcome news'
It said the new statistics were "welcome news" but the evidence that an opt-out donation system worked was "disputable."
"We think the most effective way to increase the supply of organs further is by investing in wide-reaching public awareness campaigns, by making it easier for people to make the decision and by improving the organisation and infrastructure of the transplantation service," a spokeswoman said.
Despite the rise in transplants, Dr Jones said it was important to continue to increase the number of organ donors.
"The number of people in Wales dying while waiting for a transplant is still too high and we must continue to do all we can to increase the number of organ donors," he said.
"This includes the introduction of new legislation on organ and tissue donation for Wales.
"The consent rate for organ donation in Wales, although better than the UK average, is still too low and we know a large part of that is down to people not discussing their wishes with their families."