Welsh road sign for Hampshire village of Purbrook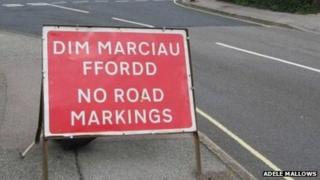 You would not normally expect to find a road sign in Welsh in the heart of Hampshire.
But Swansea-born Adele Mallows came across just that in her adopted home village of Purbrook, near Waterlooville.
She spotted the "dim marciau ffordd" sign, although helpfully it added "no road markings" in English.
Hampshire County Council said the mix-up happened because the contractor works throughout the UK.
The signs are a familiar sight in sight in Wales, where all such public information should be displayed in Welsh and English.
But Ms Mallows, who cherishes her country of birth so much that she is a member of two Welsh clubs in Hampshire, was bemused to see the sign in Purbrook.
"I don't know what other people thought of it, but it never occurred to me that they would think it was anything other than Welsh. I think most people would have realised what it was.
"What's funnier is that the sign says there are no road markings, but there are - so it was nonsense anyway."
Councillor Mel Kendal said Hampshire council had not known the bilingual signs were being used, and asked the contractor to replace them.
"Possibly because English language only signs were not available at the start of the works the contractor used dual language ones instead.
"Of course, Hampshire does not require dual language signs and this would not be acceptable on a permanent sign, but the signs in question were only temporary and the important message was clearly visible in English and could be understood," he added.