Dorothea Quarry rescue for diver in Snowdonia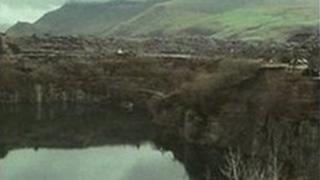 A diver has been airlifted to a decompression chamber after being rescued from a 300ft (91m) deep pool at a disused quarry in Snowdonia.
It is understood the male diver was suffering from decompression sickness, also known as the bends.
Holyhead Coastguard was called to the flooded Dorothea Quarry in the Nantlle Valley, a popular diving site, at 14:49 BST on Sunday.
An RAF helicopter airlifted the diver to Murrayfield Hospital on the Wirral.
His condition is unknown at present.
There have been more than 20 fatal accidents at the flooded Dorothea quarry since 1990