Wales drug misuse deaths fall, but trend shows rise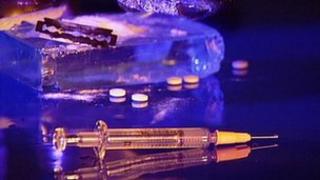 The number of deaths from drugs misuse in Wales fell in 2011, according to the Office for National Statistics (ONS).
However, the overall trend has shown a sharp rise in the death rate over the past two decades.
Last year 137 people died, but that compared with 33 in 1993 and 89 in 2005.
The death rate peaked in 2010 with 152 deaths, and the rate still remains higher in Wales compared with every other region in England, said the ONS.
However, Ifor Williams, chief executive of the Swansea Drugs Project, was encouraged by last year's fall in deaths and said it showed education and prevention projects were working.
Antidote
"I think it's important that we take the positive rather than seeing the figures from the last 20 years," he said.
Mr Williams said the Welsh government has been "focused" in the last couple of years on preventing deaths and users have been able to carry the antidote naloxone.
Naloxone works by temporarily blocking the effect of the opiate drug so it can reverse the effects of an overdose.
That can allow a user the time to contact emergency services and receive treatment.
"We've been really pushing overdose prevention with our clients," said Mr Williams.
"There's no real evidence to show there are fewer people taking drugs, but this does show us that education and prevention is taking effect."
The overall figure for deaths due to drug poisoning in Wales, which includes intentional poisonings and accidents involving legal and illegal drugs, as well as drug misuse, was 215 last year.
That figure is down from 224 in 2010.
According to the ONS, heroin and other opioids accounted for the largest number of deaths.