MP tables Commons questions over help for Remploy staff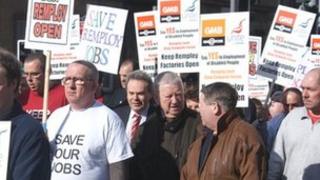 Questions are being tabled in Parliament over a decision to hire an organisation to recruit volunteers to support redundant Remploy workers.
Wrexham Labour MP Ian Lucas is asking ministers to explain how much the organisation is being paid.
Job losses in Wales will total 189 with the closure of a fifth factory at Swansea, next month.
Remploy and the Department for Work and Pensions said they were doing all they could to help.
Manchester-based Mentoring and Befriending Foundation (MBF), which has charitable status, is looking for people to help former Remploy staff like those in Wrexham, Aberdare, Abertillery and Merthyr Tydfil.
'Mainstream jobs'
The MP has put down two parliamentary questions to ministers responsible for the DWP.
In the first, he asks them to list "which organisations have been engaged to deliver Remploy Mentoring for Success programmes and how much each organisation is to be paid?"
Secondly, he wants to know how much has been allocated to the Remploy Mentoring for Success programme.
A DWP spokesperson said: "We are doing everything we can to ensure that Remploy workers who are affected will receive a comprehensive package of support and guidance to make the transition from government-funded sheltered employment into mainstream jobs."
He said an £8m support package would be used to guarantee "tailored support for every single disabled person affected", including a personal case worker.
"They can also use Access to Work, which pays for things like specially adapted equipment, support workers and interpreters at work."
He said: "In Wales last year 1,510 disabled people were supported in jobs through Access to Work, far more than the 400 people that were supported in Remploy factories during the same period."
Appeals by MBF for volunteers to help the Remploy staff have recently appeared in some local newspapers.
'Disadvantaged'
On its website, the organisation says it is keen to hear from individuals who would like to volunteer, and employers who are interested in offering support as a "development opportunity" for their own staff.
Volunteers would be expected to commit up to two hours of their time a week and would be given full training, supervision and support and out-of-pocket expenses.
The website explains the programme aims to recruit approximately 500 volunteer mentors and befrienders in various locations in the UK to support Remploy employees who may require specific support - from developing life skills through to help finding work.
It said: "Recent research carried out by us revealed that 77% of disabled and disadvantaged individuals felt it would be useful to have a mentor to help them find work and 69% reported that it would be beneficial to have the support of a mentor through the first few months of employment."
A spokesman for Remploy said the mentoring scheme was part of a support package funded by DWP with MBF sub-contracted by Remploy as an extra level of support in addition to personal case workers.
This summer, the Welsh government announced a £2.4m scheme for employers who give jobs to former Remploy workers for least four years.
A total of 1,700 workers are losing their jobs at 36 of the 54 Remploy plants across Britain.