Prescriptions issued in Wales rises to 72.7 million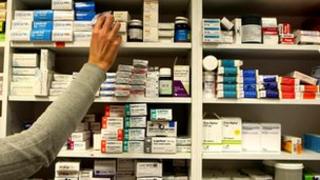 The number of free prescriptions dispensed in Wales has risen for the 11th year in a row, figures show.
A Welsh government report says more than 2.5 million more prescriptions were issued in Wales in 2011 - taking the number up to 72.7 million.
Free prescriptions were introduced in Wales in 2007.
However, the overall cost of Wales' free prescription policy was £587.2m - that is down by more than £7m the year before.
As well as supporters, there have been critics of the policy who say it is "unsustainable" in the face of the year-on-year rise.
The report shows last year Wales dispensed 24 prescriptions per head - more than any other region in the UK.
England - the only country still charging for prescriptions - dispensed 18.4, Scotland had 18.3 and 20.2 in Northern Ireland.
Free prescriptions were introduced in Northern Ireland in 2010 and Scotland followed in 2011.
Prescriptions in England increased by 25p earlier this year and currently cost to £7.65.
The increase means that in the last decade the number of prescriptions dispensed in Wales is up by 57.9%, a rise of 26.7 million items.