Police spend millions rehiring retired officers or staff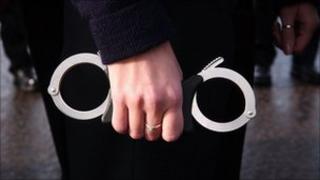 Police forces in Wales have spent millions of pounds rehiring hundreds of retired officers or staff in the last financial year, BBC Wales has learnt.
Dyfed-Powys Police rehired 63 retired officers or staff at a cost of £1.4m, while North Wales Police rehired 27 spending £672,000, and the Gwent Force rehired 11 at a cost of £329,000.
South Wales Police rehired 226 retired officers but did not reveal the cost.
The force said those returning as staff brought a "wealth of experience".
The information for 2011-12 was obtained in a Freedom of Information request by BBC Wales' Welsh language news website Newyddion Ar-lein.
Most officers can retire after 30 years' service on two-thirds of their final salary, and £1 in every £7 spent on policing goes on pensions.
Margaret Thomas, secretary of Unison in Wales, which represents police staff but not officers, said: "Clearly, the cost of rehiring police officers and staff is quite substantial, particularly when you consider the savings that police forces are being expected to make at the moment.
"I find it disappointing that the police forces have taken this decision at a time when some of our members are facing redundancy and police officers are being taken off the beat to fill police staff posts.
"This money could have been better spent on maintaining existing services and continuing the employment of current staff - this would have been a better use of funding and would have provided a better service for communities throughout Wales."
A spokesperson for the Police Federation of England and Wales added that "police forces appoint the best person for the job following a competitive process".
Matthew Sinclair, chief executive of the TaxPayers' Alliance, said taxpayers would "find it hard to understand why so many former police officers have been rehired, particularly when many will have received pay-outs when they left the first time around".
"The police forces seem to be operating a revolving door policy when it comes to employment which mean that taxpayers get hit twice, once for the pay-out and then again for the new salary," he said.
South Wales Police did not reveal the cost of rehiring retired officers and staff because "the cost of providing the information is above the amount to which we are legally required to respond".
However, a spokesperson said: "After police service, most former officers have moved on to provide valuable service in other occupations.
"Those returning to South Wales Police as staff are able to bring the wealth of experience which they have gained while they are serving.
"Quite often this brings savings in terms of training costs and mentoring periods. Therefore, it is more likely that suitably qualified officers who are retiring can continue to use their expertise in staff roles.
"Any officer returning as police staff will be properly assessed against the requirements of the role."