Welsh Secretary David Jones makes economy top priority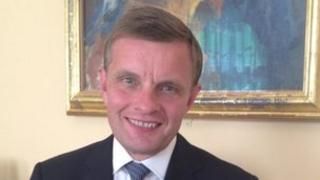 The new Welsh secretary says boosting the economy is at the top of his priorities.
David Jones said he would work towards more co-operation between Westminster and the Welsh government saying that relationship was essential to ensure economic growth.
Mr Jones told the BBC that he had already had a "very positive reception" from First Minister Carwyn Jones.
"My priority is the economy," he told BBC's Good Morning Wales programme.
Mr Jones said the post of Welsh secretary was "vitally important" adding people in Wales "deserve to have good representation at the cabinet table".
He said his appointment marked a fresh start to improve relations between the Welsh and UK governments.
"We've turned over a new leaf," he said.
"I think it's essential that the two administrations do work very closely together. People in Wales would feel extremely let down if they didn't see the two governments working together to try and improve the Welsh economy."
He said he got on "extremely well" with the leader of the Conservative group at the assembly, Andrew Davies.
However, he would not be drawn on his past opinions on devolution.
"What we're at now is probably the most difficult economic time that we've ever faced," he said.
"The devolution settlement is, of course, settled. What we've now got, of course, is the Silk Commission, which is looking at modifications to that settlement."
Mr Jones said he would not comment on possible findings from the Silk Commission.
Beneficial
"The Silk Commission has not reported yet, I don't think it would be right or proper for me to seek to second guess what its recommendations are likely to be," he said.
"All that I can say is the members of the commission are highly respected and I'm sure the recommendations it comes up with will be sensible and will be beneficial for not only for Wales but for the United Kingdom."
He also said he would "give consideration" to the Green Paper on the way AMs are elected.
Mr Jones added: "I'd like to correct Vaughan - I had an absolutely splendid time in the assembly. I wasn't there very long, but I think it's quite wrong of him to say I didn't enjoy it, I thoroughly enjoyed the experience."