Executives' private health deals at colleges criticised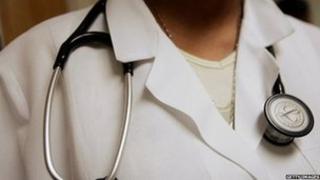 Some colleges in Wales have been criticised for providing private medical insurance for executives at the taxpayers' expense.
Three out of 18 colleges told BBC Wales after a Freedom of Information request that they pay insurance cover.
Guto Bebb MP called it a "slap in the face" for the public and unions have questioned whether it is a good use of public money.
Two colleges said the policies help ensure managers return to work quickly.
Grwp Llandrillo-Menai, Colwyn Bay, Ystrad Mynach College, near Caerphilly, and Coleg Ceredigion, Ceredigion, said they paid insurance cover.
Grwp Llandrillo-Menai plans to spend £11,600 this financial year on private medical insurance for six executive staff but says it helps keep the number of sickness days to a minimum.
Ystrad Mynach College provides cover at a projected cost of £3,467.50 for five staff this financial year and says it only costs £1.70 per manager a day.
Coleg Ceredigion pays around £570 per year for one staff member.
Cardiff and Vale College spent £720 to cover three staff members for three months, but has since terminated the deal.
Mr Bebb, who represents Aberconwy, said: "Some of the senior members of staff at Coleg Llandrillo are extremely well paid and I'm not doubting that they are very well paid because it is a large and complex organisation.
"But for a taxpayer-funded organisation to deem it's necessary to provide private medical insurance for its staff I think is a slap in the face for the taxpayer especially at this very difficult economic time."
Philip Dixon, director at the union ATL, said: "There's a fundamental question here about the use of public money.
"My understanding is that this is going to a private contractor.
"We've got a good NHS service in Wales, most of the other colleges seem content to use that. Why is this public money being used for a private contractor?
"I think that's a big question of principle which needs to be looked at, and I'd want to raise that with them."
A Grwp Llandrillo-Menai spokesman said private medical insurance was provided for its chief executive officer and executive directors as part of a "competitive and contractual remuneration package".
"As a responsible employer, Grwp Llandrillo Menai believes that provision of the cover is desirable both to the general wellbeing and expedient recovery, and return to work, of its most senior executive management as may be periodically required," he said.
"As medical episodes are unpredictable, it is neither reasonable or practicable to evaluate the potential financial returns to be provided by an insurance policy unless the policy is actually called upon.
"It does however stand to reason that by providing reasonable cover, the protection afforded by it more than outweighs the potential losses risked to the group by not providing it."
A spokesman from Ystrad Mynach College said the package was "value for money".
"It costs less than £1.76 per day for each senior manager to be covered, and secondly, senior managers devote a substantial amount of their time and energy to running the college at Ystrad Mynach College.
"They do so reassured in the knowledge that if they have any medical issues these can normally be quickly and efficiently addressed without there being any material interruptions to the operation of the college," he added.
Coleg Ceredigion has been contacted by the BBC for a response.