Flintshire Paramedic 'slapped' woman, 69, tribunal hears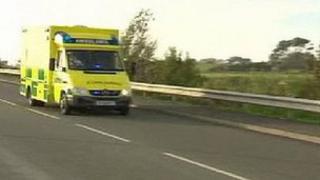 A paramedic was sacked after his colleague reported him for slapping an elderly woman three times across the face, a tribunal has heard.
Former RAF medic Gareth Lewis, who was based in Queensferry, Flintshire, said it was an accepted method of testing the consciousness of patients.
Senior Welsh Ambulance Services Trust officers said it could not be justified and he was sacked for gross misconduct.
Mr Lewis, who alleges unfair dismissal, is due to give evidence on Tuesday.
Mr Lewis had worked for the ambulance service for 10 years and qualified as a paramedic in 2004, the tribunal in Rhyl was told.
He was suspended following the incident in July last year and was sacked in October after being found guilty of gross misconduct.
The tribunal heard Mr Lewis, who lives in the Wirral, Cheshire, and his colleague Nancy Holmwood, were called to the woman's house - the location of which has not been disclosed.
Mr Lewis was alone in the room with the 69-year-old woman and student paramedic Jack Wood when he slapped her as she lay on the floor, the tribunal was told.
Ms Holmwood told bosses she heard the slaps from the next room, where she was with the woman's daughters.
Dr Paul Hughes, the trust's medical director, told the employment hearing: "It is not a recognized means of assessing anybody's level of consciousness and cannot be justified.
"It is, by all accounts, assault."
Gordon Roberts, the trust's head of services for north Wales, who was on the disciplinary panel which sacked Mr Lewis, said: "Slapping is not a technique advocated by the Welsh Ambulance Service."
Rubbing the sternum, or pinching an earlobe were more acceptable methods of assessing response to pain, he said.
Asked by employment judge Jon Harper whether other sanctions, such as a final written warning, had been considered rather than dismissal, Mr Roberts replied: "We came to the conclusion that the severity of the technique applied by Mr Lewis, which amounted to assault, warranted dismissal."
Mr Roberts said they had not checked out Mr Lewis's claim that the slapping was acceptable in other parts of the country including Hampshire.
Mr Lewis, who claimed at his disciplinary hearing that he was targeted because of concerns he had raised about issues in the past, will give evidence on Tuesday.