Flintshire paramedic 'tapped' woman, 69, tribunal hears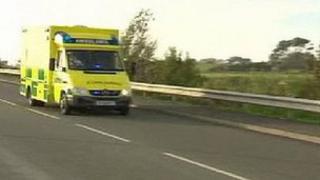 A paramedic who was sacked for allegedly slapping an elderly patient three times across the face has claimed he tapped the patient with his fingers.
Former RAF medic Gareth Lewis, who was based in Queensferry, Flintshire, said he tapped the woman, 69, three times on her face when she lost consciousness.
A Rhyl tribunal has heard Mr Lewis was sacked by the Welsh Ambulance Services Trust for gross misconduct.
He claims unfair dismissal and a judgement is expected on Wednesday.
Mr Lewis was reported by his colleague Nancy Holmwood following an incident in July, 2011, when they attended a 69-year-old woman at her home.
He said she appeared to be suffering a panic attack, but after calming down she lost consciousness.
Mr Lewis said he supported the woman's head as she lay on the floor, but when she did not respond to his talking he tapped her face three times.
He told the employment tribunal other recognised methods of applying stimuli, such as placing a knuckle into her eye socket, were inappropriate and invasive as she was a frail and vulnerable woman.
He accepted he had never been trained to use a tap or slap, but guidance on the subject was vague and he did not believe it could be regarded as gross misconduct, the tribunal heard.
Mr Lewis said the method was widely used in the armed services and Hampshire Ambulance Service.
Thankyou letters
He told the tribunal he had an exemplary record, producing 14 letters of thanks from patients treated during his last 12 months in work.
One was from the chief constable of North Wales Police, Mark Polin, for attending him when he suffered an injury.
In 2008, Mr Lewis was the first recipient of the Welsh Ambulance Service's employee award for the northern region after rescuing a patient from a burning car.
However, he told the tribunal he had been targeted by bosses because he had raised concerns over two health and safety issues in the past.
He said he had spoken out against the poor response of a call handler to an emergency in which a cardiac patient later died.
Also, he claimed he had not been told a man suspected of stabbing two people in Flint was still in a house when he was asked to attend.
Mr Lewis, who lives in Wirral, Cheshire, said that although the incident involving the 69-year-old woman was referred to the police and Protection of Vulnerable Adults panel, no action was taken.
The judgement is expected on Wednesday.