EADS and BAE Systems deal 'will preserve Airbus jobs'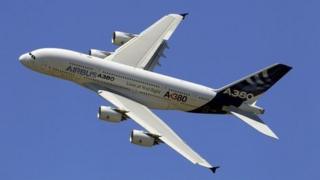 Aerospace workers in Wales should not fear for their jobs with news that Airbus' parent company is in merger talks, says an industry expert.
Aerospace firm EADS, which owns Airbus, and employs 6,500 people at Broughton, Flintshire, is negotiating with UK defence contractor BAE Systems.
It also owns defence company Cassidian in Newport, which employs 1,000 people.
John Whalley, of Aerospace Wales Forum, said: "It's more about helping to preserve jobs and growth."
These two companies epitomise high skilled manufacturing in sectors that are globally very competitive.
BAE Systems employs around 620 people at the head office of GCS Munitions based at Glascoed, near Usk in Monmouthshire.
Aerospace Wales Forum, the aerospace industry association in Wales, has welcomed the news of merger talks.
In a potential tie-up, BAE would own 40% and EADS 60% of the new firm.
The forum believes that it will make the new joint organisation stronger and jobs more secure.
Mr Whalley said the prospect of job losses among staff working for EADS firms in Wales were "unlikely".
He said: "It will strengthen and consolidate their future.
"I don't think they should be worried about their jobs, at the moment the Airbus plant is booming.
"They seem to build a new factory there every two or three years. First of all with the A380 and now with the A350, the new composite airliner, business is booming.
"EADS in south Wales, of course, Cassidian, has faced some challenges but nevertheless when you look at the growth that has taken place there over the last 10 years, it's been fantastic."
Mr Whalley said the proposed merger came against the background of a downturn in defence markets across the world.
'Significant benefits'
He said: "Both EADS and BAE in defence have struggled in the last few months and I think this consolidation is one of many that will happen right across the world.
"It make eminent good sense. It brings two complementary companies together and really is the last piece in the jigsaw in European terms.
"I think the real driver here is market access. It gives BAE greater access to European defence markets outside the UK and it gives EADS, through its partnership with BAE, greater access to the UK where it is already well established, and also to the US."
BAE and EADS said that a merger "offers the prospect of significant benefits for customers and shareholders of both companies".
Under the code of the UK's Takeover Panel, the two parties must announce a decision on the outcome of their talks by 17:00 BST on 10 October.